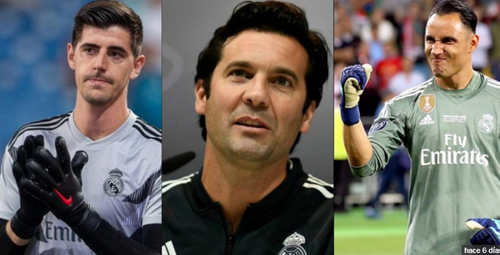 Solari took away the Champions, his refuge with Lopetegui. Courtois played in Plzen. The Costa Rican has only the Cup left and when he knew he was a substitute, he was cryptic on his Instagram ...
"But blessed is the man who trusts me, who puts his hope in me. It will be like a tree planted on the bank of a river, which extends its roots towards the stream and does not fear when the heat arrives, since its foliage is always leafy. In a time of drought, he never becomes restless, and never fails to bear fruit. " This biblical passage from Jeremiah 17: 7-8 was the cryptic message Keylor left in his Instagram profile, from the locker room in Plzen, when he knew he was not going to play against Viktoria. It was the return to the Champions, his refuge.
The face of the goalkeeper of the last three white Champions on the bench of the Czech stadium was a poem. Sitting between Modric and Isco, he warmed up before and took refuge in his red feathers. From there he saw how Courtois is settled. The world of football opts for Thibaut. "Courtois makes everything simple, not like others who need to exaggerate their actions," Valdano said last night in Movistar Champions League. It seems that only in Costa Rica they guard their goalkeeper. "His substitution is not for performance," said his coach, Gustavo Matosas. Solari, pure diplomacy, threw a public cap after the game. "Keylor is a man, I admire him as a goalkeeper and I respect him as a man," said the Argentine in Plzen.
The door has been closing.
But the sporting reality is another. Since Courtois took the place under the three clubs, on September 1 against Leganes in the league, Keylor had to settle for the Champions League, where Lopetegui, fearful of hierarchies and the weight of the tico in the locker room, yes he respected the rank. Only a mole, the 1-0 in Moscow. Solari knows what the club wants and changed the dynamic in the 0-5 to Viktoria in which Courtois barely had a bad time 15 minutes. Keylor suffered more on the bench. But, although the decision of the Argentine, was a blow for him, does not throw in the towel and has decided to say "no" to Costa Rica to stay in the international break in Valdebebas. "With him we understood before making the call, because of his unstable situation, he told us that it is an appropriate time for him to stay at Madrid," explained Rónald González, interim coach.
https://steemmonsters.com?ref=apoloo2