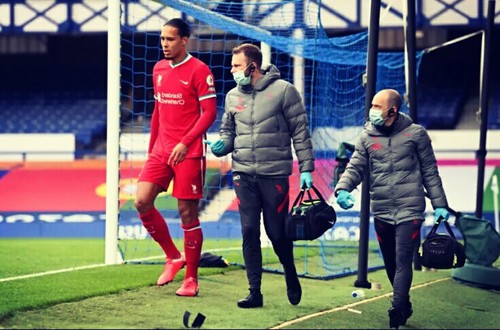 Liverpool got some good news. Their mainstay defender, Virgil van Dijk, is said to have started light training. The news is surprising, because the defender from the Netherlands is predicted to be absent until the end of the season.
The British media, the Daily Mail, reported on Friday (20/11/2020) that Van Dijk had received permission from the Liverpool medical team to undergo light training. These exercises are the initial stage of a knee post-operative rehabilitation program.
Which made him not miss the full season. Van Dijk suffered a serious knee injury during the Merseyside derby, between Everton vs Liverpool in the Premier League, October 10, 2020. The Dutch defender was hit by goalkeeper Jordan Pickford at Goodison Park. After the match, Van Dijk was sentenced to a knee ligament injury. After undergoing surgery, the 29-year-old player is said to be absent until the end of the season. In previous cases, players suffering from similar injuries had to miss about five more months.
In the recovery phase, Van Dijk is reported to have started light training. The former Groningen, Celtic and Southampton defender trained at his new training complex, the AXA Training Center. This situation raises hopes that Virgil van Dijk can return to appearing this season. This is because the defender who became the best European player in 2019 was reported to have had a full season rest.
The situation at Liverpool's back line is in chaos. Because apart from Van Dijk, all the defenders were basically injured. In succession after Van Dijk fell, other players followed. Starting from Trent Alexander-Arnold, Joe Gomez, to Andrew Roberton. In fact, Fabinho was also injured, where the midfielder was originally being forced to become a defender. Then the young defender, Rhys Williams, reportedly also injured, so the Reds really experience a defender crisis at this time.
Since Virgil van Dijk's injury, Liverpool have not kept a clean sheet in the Premier League. As for the Champions League it is still smooth, with not conceding in three matches.
End of this week, Liverpool will return to compete in the Premier League. Juergen Klopp's men will host Leicester City at Anfield, in the Week 9 Premier League match, Monday (23/11/2020).
This is the information regarding Virgil Van Dijk who has reportedly started light training, I hope this information is useful.
Thank you for reading. Stay safe and Stay Healthy. Health is Wealth.
@aronexxon