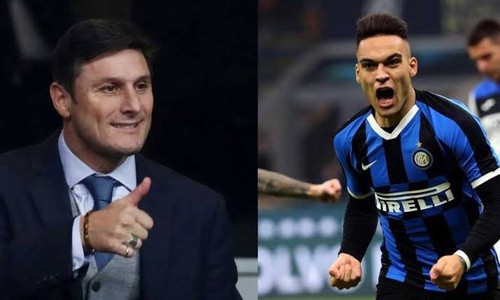 According to the information circulating that I know that at the beginning of the 2018/2019 season Inter Milan bought Lautaro Martinez. At that time, he was 21 years old. Lautaro Martinez was bought from the Argentine club, Racing. His work scored 13 goals in 21 Argentine League matches to make Inter steady to redeem it with a sum of 22.7 million euros.
According to field observations, Lautaro Martinez continues to show progress at Inter Milan. The development of the Argentine player satisfies the Nerazzurri / Inter Milan.
In his inaugural season at Inter Milan, Lautaro Martinez could only contribute 6 goals in Serie A. In the next two seasons, he broke double-digit goals in the Italian League.
Lautaro Martinez successfully led Inter to win the Italian League in the 2020/2021 season. He was able to record 17 goals.
Javier Zanetti as Vice President of Inter, is very happy with Lautaro Martinez's development. He is predicted Zanetti will shine at the World Cup next year.
Guess how he can grow, says Zanetti in Calciomercarto. "I remember very well when we signed him. When you bring in young players you can't position yourself in the present moment, on how he is in this moment, but have a vision of how he will be in 3, 4, 5 years. With Lautaro, we are very happy, his maturing process has been very good, after several periods of ups and downs adaptation he has found his balance. We are happy for him who he is and his future with us. In the next World Cup, he will be an important name, a protagonist." Zanetti said.
In the Italian League this season, Lautaro Martinez has again shown sharpness. He has recorded as many as 8 goals in 14 matches.
That's a glimpse of my information about - Javier Zanetti Very Happy to See Developments in Lautaro Martinez and hopefully useful.
Regards! @aronexxon