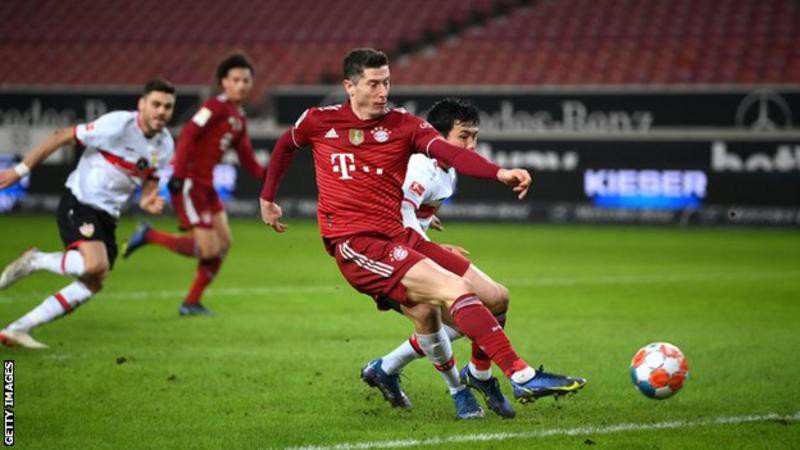 Bayern Munich had started the match in a high tempo style but had to wait before Serge Gnabry scored in the 40' minute to give Bayern the lead at halftime. Gnabry also scored a few minutes after the break to give Bayern a two-goal cushion. Lewandoski decided to join the party by scoring twice in three minutes with his second strike on Tuesday being his 42nd goal of 2021 equalling that of Gerd Muller's record of most goals scored in a calendar year in the Bundesliga which was set back then in 1972. Serge Gnabry scored his third to complete his hat trick two minutes later. With the score ending 5-0 in favor of the away side. Serge Gnabry was involved in all five goals against Stuttgart while finding the back of the net nine times this season more than any midfielder in the division.
But all of Serge Gnabry's performance will seem to fade in comparison to the man who keeps on firing in all cylinders while also breaking and setting records in Robert Lewandoski who in May had previously broken the same Gerd Muller's record for most Bundesliga goals scored in a season. He will have a chance to surpass Gerd Muller's record of most goals scored in a calendar year in the Bundesliga at their final home league game If the season when Bayern take on Wolfburg if he scores he will the record outright and prove to the Bundesliga that he is and might be the greatest striker to have graced the League.
Bayern's win ensures they are nine points adrift at the top of the table with second-placed Dortmund at home to bottom side Greuther Furth on Wednesday. in which a Dortmund win will see it cut the gap at the top of the table to six points.