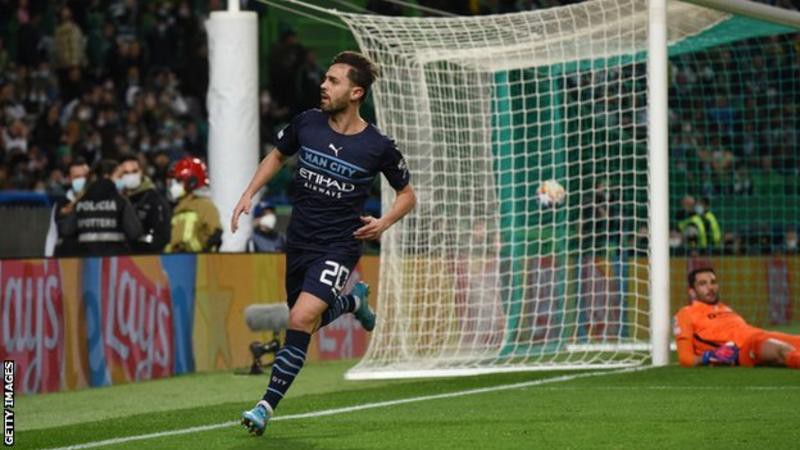 Pep Guardiola's side were in red hot form to make light work of Portuguese side Sporting Lisbon as they secure their place in the Quarter final of the Champions league having played just the first leg of the knockout round of the competition.
City were on a riot as they put five past Sporting Lisbon in a 5-0 win to secure a place in the next round of the Champions league.
Estádio José Alvalade was hostile to the City players with chants and bands to intimidate this City side but they were shown a preamble of what's to come vwhen VAR deemed Riyad Mahrez goal was valid after possible review of offside as City took the lead in the Seventh minutes. If that startled the Sporting Lisbon fans and players alike , then they were in for a long night as a brilliant Bernardo Silva dispatched a superb half volley in the back of the net to make it 2-0 before a close range finish from youngster Phil Foden made 3-0 and Bernardo Silva scored again to make it 4-0 at halftime.
Manchester City picked off where they left off in the second half with incisive passing which lead to a goal for Bernardo Silva and what could have been an hatrick but the goal was ruled out for offside but Raheem sterling did score after picking up a pass from Bernardo Silva to put the score 5-0 and beyond Sporting Lisbon as full time whistle couldn't have come sooner for the home team.
MANCHESTER CITY STILL SHOWING DESIRE
City have been quite unlucky in Champions league after losing last edition to Chelsea but they keep showing this desire and conviction that they can still clinch the trophy come May.
With the Premier League title looking all done and dusted, they will have the belief that they can still win the only trophy that has eluded them. Their desire was on full display in the match against Lisbon as they played with such ferciousity and utmost concentration to dispatch their host. Pep Guardiola and his men will feel that with vulnerability in other contenders showing, that they can go all the way to clinch the trophy. The desire was embodied in no other than Bernardo Silva who laid both body and soul on the field of play by making life difficult for the hosts while showing mental fortitude to ignore the chanting and dissing of the hosts supporter to put in a man of the match performance as City becomes the first side since Bayern Munich 8-2 defeat of Barcelona to score four goals in the Champions league knockout stage.
City can win the Champions league but you never can tell, which is why we love the league of Championssssssss 😁😁