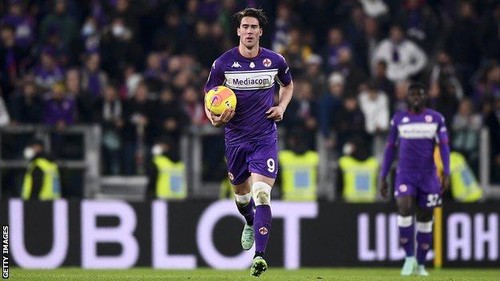 If you go to Google and search for the latest transfer news or rumors, the name Dusan Vlahovic will be there as he is considered to be one of the most talked-about Europe prospects and was linked with almost all the Europe top clubs including yours truly ARSENAL FC 😅 but not until recently when Serie A Giant Juventus snapped him up for €58m from Fiorentina. So we look at what made Dusan Vlahovic so talked about.
ORIGINS
Dusan Vlahovic was born in Belgrade, Serbia where he began his pro career with one of the top clubs in Serbia Fk Partizan.
At the age of 16 years 24 days he became their youngest player when he debuted for them against OFK Beograd in early 2016 and was also Partizan's youngest goalscorer taking the mantle from Real Madrid's Luka Jovic when he scored for Partizan in a 3-2 victory over Radnik Surdulica.
He signed for Serie A side Fiorentina during the 2018/19 season despite reports of a move to England seeming likely. Dusan Vlahovic who was 18 years old at the time struggled to break into the Fiorentina Senior squad with just a single Serie A start and failing to score in the handful of games that he played from the bench but come the 2019/20 season in the Serie A, he was more involved with the first team but his contribution of six goals in 30 appearances was deemed by many to be unacceptable.
But...................?
He had his breakthrough in late December of the 2020/21 season after struggling earlier in the campaign with 1 goal in 11 league appearances. He ended the season with 20 goals and 2 assists. The key to his rejuvenation was due to the faith shown to him by then-coach Cesare Prandelli who was sacked later in March 2021 which Vlahovic described as a "huge blow to him as Prandelli was a manager he owned everything to." Despite the sacking of his beloved manager, Dusan Vlahovic has been in red hot form this season with 20 goals in 24 appearances for Fiorentina while usurping Gabriel Batistuta as Viola's youngest goalscorer to score 20+ goals in a single season. He is also second to Bayern Munich Robert Lewandoski as his total of 33 goals in Serie A sees him in the list of top goal scorers in Europe top five leagues for the last year 2021 with three goals more than sought after footballing sensation Erling Haaland with both being the only under 25 players to do so.
WHAT UNIQUE QUALITIES DOES HE POSSESS
At 1.9m tall, he does have the physicality to shield the ball and also has an excellent link-up and hold-up play. Though he is not pacey but has the right amount of speed to trouble any defense with an exquisite first touch and his uncanny ability to see the gaps at the back of the opposition defense. He makes a lot of forwarding runs and his swift proficiency to find the extra yard while ghosting his marker to score goals which has led him to be compared with FIFA's best player of 2022 Robert Lewandoski which is an esteemed honor indeed. The best of his qualities has always been his clearheadedness under pressure, scoring goals while behaving in professional conduct despite the boos from the Fiorentina fans as a result of a refusal to sign a contract extension. With Dusan Vlahovic being 22 years of age, there is still lots of time for improvement and where else to get it than a team that has been at the top level for the past decade.
JUVENTUS POACHES ANOTHER RARE GEM FROM FIORENTINA
Most of the Fiorentina fanbase would have known the fact that Dusan Vlahovic was going to move on from the club and after an announcement that he rejected a contract extension which would have made him the highest-paid player in the club's history, surely the fanbase would have known that the dice have already been cast but the fact that he is moving to a bitter Serie A rival in Juventus would have made the transfer all the more painful. Juventus squad consists of a lot of Ex Fiorentina players from Giorgio Chiellini, Federico Bernardeschi and, last summer signing Federico Chiesa, and now Dusan Vlahovic despite the striker being heavily linked to Premier League side Tottenham and Arsenal. Dusan Vlahovic is coming to Juventus at the time they are struggling but there is a question on the fact that he has a major role to play as the Old Lady seems to get back to title-winning ways after losing the title to bitter rivals Inter Milan last season.
Will he shine at the Old Lady or Falter like so many promising talents...... that we shall see 🤔🤫