It is safe to call it a complete performance from the men in white as they calmly and clinically found their way past the resilient stars of Athletic Bilbao.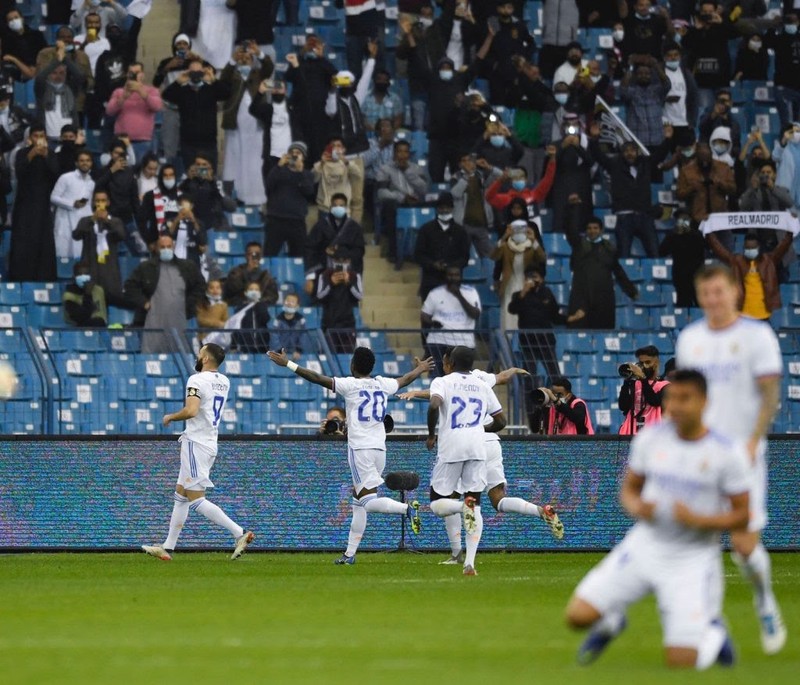 Coming into this Super Cup final, Athetic Bilbao came from behind to beat the Almighty Atletico Madrid while Real Madrid managed to get past Barcelona in a 5 goal thriller El Clasico.
Like it has always been, Real Madrid have always found it tough with Athletic Bilbao with their encounters experiencing less goals and more fights. Everyone knows Athletic Bilbao has improved very well of late and Marcelino is doing a wonderful job with them; never forget they are the defending champions of the Super Copa.
Ancelotti clearly understood what he was to expect and prepared his team perfectly. They tried not to gift the spaces Athletic Bilbao loved to exploit, then attacked and defended in unison.
A perfect run from Rodrygo would see him lay the ball for Modric to curl beautifully into the far corner of the post and send Real Madrid ahead. Impressively, Real Madrid never looked like they were ahead in a final as they continue to run at Athletic Bilbao like they were losing. This game tactics undoubtedly demoralized the Athletic Bilbao players as they sought space endlessly which never came.
The first half ended with Real Madrid winning by a goal to nil and a thrilling second half was expected. Much to our surprise, Athletic Bilbao continued to play it safe, kudos to Real Madrid's well structured approach. It didn't take long for Real Madrid to make it two for the night. A perfect Toni Kroos ball to Lucas Vasquez will see the Spaniard play a nice pass to the onrushing Benzema whose shot was caught by the arms of the Athletic defender and VAR gave a penalty which Benzema converted.
15 minutes to the end of the match Athletic Bilbao picked pace as to be expected. They continued to cause Real Madrid all kind of problems until the 88th minute when they were rewarded for their efforts all night. A Militao handball in the 18 yard box was called by the referee and the Brazilian was redcarded with a penalty given. Thubiat Courtois will go on to save the ensuing spot kick with his stretched out legs and ensured Real Madrid win the final with a clean sheet.
Hopefully, this is probably the first trophy of many to come for Real Madrid this season. 😁