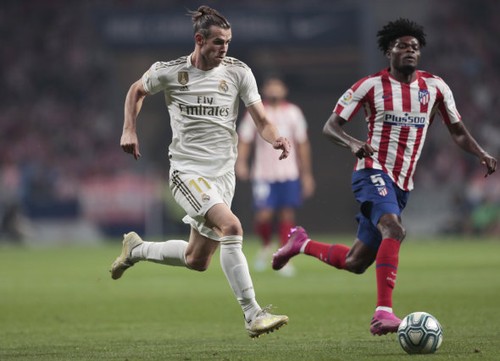 As expected, Simeone's Atletico Madrid approached the match with a very good defensive tactics in which they created very little going front but defended beautifully.
Real Madrid went into this difficult encounter bearing in mind where exactly they entered and who they were playing against. Atletico has been a very tough opponent ever since Simeone began managing them, crafting his team into becoming the best defensive team not just in Spain but in Europe as well.
Zinedine Zidane on the other hand left no room for mistakes. Fede Valverde, a central midfielder was brought into the starting lineup in place of James Rodriguez which was pointing to an obvious direction, "it is going to be a battle of the middle".
Following Real Madrid's Osasuna win few days ago in which Zidane used much of his second eleven, Thubiat Courtois replaced Alphonso Areola in goal for the whites. Raphael Varane returned to partner Sergio Ramos in central defense. Dani Carvajal replaced Alvaro Odriozola while Nacho Fernandez retained his left back spot in place of the injured Marcelo and Mendy.
The midfield witnessed Casemiro, Toni Kroos and Valverde retain their spots while Eden Hazard, Gareth Bale both flanked Karim Benzema, replacing Vinicius Junior, Lucas Vasquez and Luka Jovic respectively.
The match began with both teams sending a message to the world that they are not willing to make any mistakes and a little surprisingly, it ended that same way. Real Madrid created the best chances of the game but was unlucky to meet a Juan Oblak in red hot form and in an alien mode. The Atletico shot stopper saved two crucial moments for Atletico Madrid, one from Toni Kroos and the other for Benzema. Aside these saves, both teams were more focused on limiting chances at both ends of the pitch and throwing all the punches in the middle.
Atletico Madrid's Thomas Partey stands out for the Rojiblancos. The Ghanaian midfielder tackled, intercepted and dribbled wonderfully, shackling the Real Madrid midfielders and battling with them all through the match and forcing them to the flanks. There is every possibility that if Partey had missed this encounter, the final score line would have been different and I am certain it won't be favorable for Atletico Madrid.
This match had some positives to single out as a Real Madrid fan which includes the joy of watching Real Madrid keep another clean sheet for the third consecutive La Liga game, this hasn't happened since Zinedine Zidane's era as Real Madrid coach and to consider this was a team that conceived 15 goals in five games, APPLAUDISE Zizou.
THANK YOU FOR READING