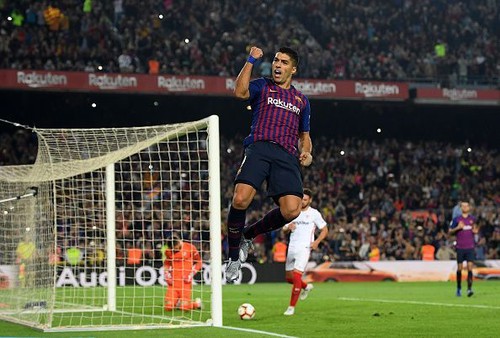 As an unbiased fan of Real Madrid football club, I am taking out time to specially recognize and praise Barcelona's striker Luis Suarez for being one of the best strikers football has ever witnessed since the days of post Ronaldo of Brazil.
There is a reason Suarez is still at Barcelona despite the club signing a replacement in Antonione Griezmann and last night against Sevilla, the Uruguayan showed why he is still to be considered first choice provided he is healthy and fit to play.
Suarez is one of the major reasons Barcelona are sitting in second place today, two points below Real Madrid. In the game against Sevilla, Barcelona got an undeserved goal in the 25th minute from the Uruguayan and that goal pretty much decided the match in the favor of the Catalans. As is typical Suarez, he scored an overhead kick goal following from a cross when his team were clearly lacking in ideas of how to break the Sevilla team. The bend, the placement, the celebration, all were top notch and so much reminded us of prime Delimma Ronaldo.
Before going to Barcelona, the premier league felt the presence of the Uruguayan. Suarez was the first player from the premier league to win an European golden shoe since Cristiano Ronaldo and coincidentally, the Uruguayan shared the honor with the Portuguese that same year. Before exiting the walls of the "You will never walk alone" walls, Suarez' goals almost handed Liverpool their first English Premier League title since 1989 and only lost the league as a result of not being serious at the dying stages of the tournament.
Suarez might not be much of a ball hustler as he once was. He might not be a runner or athletic as he once was but there is one thing you can never take away from the Uruguayan and that is his rare understanding of the striking area and goal post.
Thank You For Reading