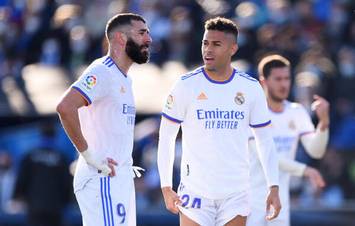 Real Madrid are left to rue missing their key players to Coronavirus as they succumb to a 1-0 early goal defeat to 16th place Getafe.
Heading into this game, Real Madrid were without starman Vinicius Junior and Eduardo Camavinga who are both sidelined pending fully recovery from the virus. Courtois and Valverde were also diagnosed but the former recovered well in time to make the starting lineup. Dani Carvajal and Gareth Bale remained sidelined due to injury.
Judging by the absences above, Real Madrid had no excuse for losing this match because a team of this calibre should be able to have adequate backup for one or two players.
It's not like I am castigating the team for losing; of course losing is part of the game, but you don't lose matches like this if you are aiming for the title. Matches like this decide the title come end of season, where you are left ruing points you didn't collect easily against teams struggling in the relegation zone.
In today's encounter, Real Madrid will undoubtedly point fingers at Eder Militao for this loss. The Brazilian's sluggishness left him handing the space for Enes Ünal to snatch the ball from him and send Getafe ahead. That goal made Real Madrid start chasing the game and enabled Getafe to comfortably effectuate their tactics and it worked like hell.
They played a smart high line all through the game and it perfectly worked for them. It worked for them because Real Madrid midfield especially were lacking creativity. The Getafe tactics called for vision and penetrating passes and movements but these were. barely seen. The home side enjoyed watching Real Madrid pass the ball from one wing to another until they became too eager and start over hitting passes.
Benzema, Militao, Kroos, Rodrygo all had a bad day and Ancelotti's substitutions did little to equalize and win. It was a terrible loss and way to start 2022 but I hope it is just one of those very few bad days.