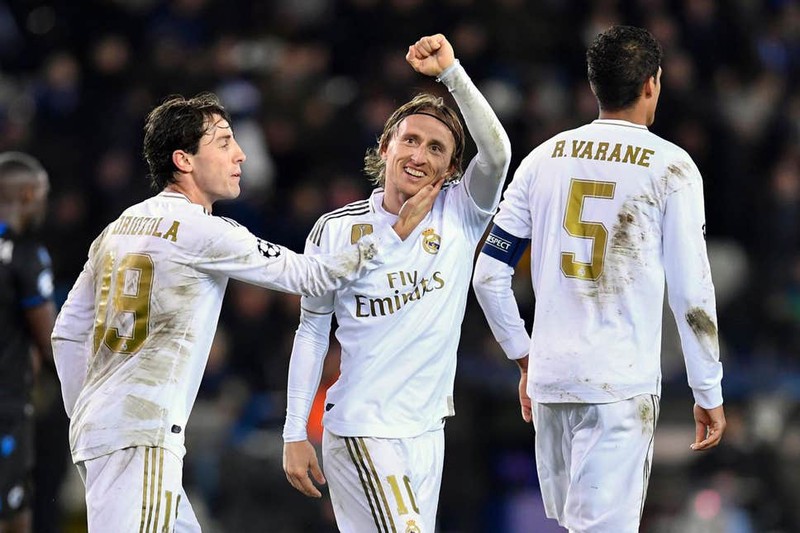 It was another consecutive Brazilian show at the Brugge stadium as Real Madrid Coach Zinedine Zidane sent out his Brazilian youngsters for the second consecutive match and this time around, they both repaid with goals.
With Valencia and Barcelona to be played in the space of three days and with summer signing Eden Hazard injured, Zidane utilized the opportunity of the Brugge clash to hand non-starters a chance to prove themselves.
Last weekend against Espanyol, Vinicius 19 and Rodrygo 18 both flanked Karim Benzema. It was the first time both players were included in the starting lineup and although Vinicius was more visible due to his dribbling ability than Rodrygo, both impressed very well.
Yesterday against Brugge, Zidane handed the youngsters another opportunity to play together. Areola Alphonsus replaced Courtois in goal. Eder Militao replaced Sergiom Ramos and partnered Raphael Varane in central defense. Alvaro Odriozola replaced Dani Carvajal at right back while Ferland Mendy replaced the injured Marcelo at left back.
Luka Modric, Casemiro and Isco filled the midfield spots while the aforementioned Brazilian youngsters flanked summer signing striker Luka Jovic.
The match began and progressed with Real Madrid in command but both teams failed to put the ball at the back of the net until half time. The second half began with Real Madrid pushing forward again and not long after, Odriozola found Rodrygo with a cut back pass close to the edge of the box and the Brazilian 18 year old lashed a left footed strike past Mignolet to open the scoring.
Not long after that goal, Club Brugge rallied and equalized after Rodrygo appeared to have been overpowered. The whites would keep a cool head to strike again, this time through Vinicius Junior, the winger pouncing on a ball struggle in the 18 yard box. A goal which would do wonders to his confidence definitely.
Close to the end of the game, Luka Modric would make it three with a well struck shot from outside of the 18 yard box after being picked out by Casemiro.
This is a win that despite not very much important to the title hopes of Real Madrid was very essential in testing the morale in the team. Next is Valencia on the line before they play Barcelona in the El Clasico. A tough next few days await Real Madrid.
Thank you for Reading