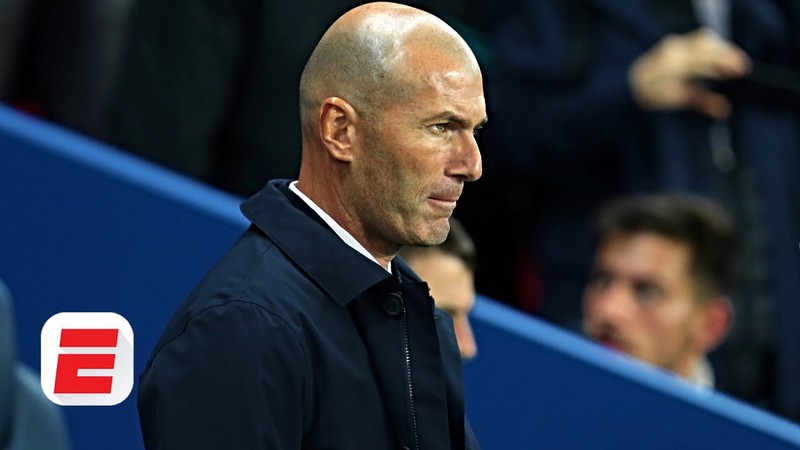 I tried as much as possible to contain the rage I was feeling while watching Real Madrid go 2 goals down in the first half last night against Club Brugge.
I took out time to pick out the important takeaways from the match and from my analysis, every blaming finger is pointing to Zidane as he is the major reason his team lost two vital points in front of their own crowd.
In my own understanding, the French Coach made a very bad team selection and topped that with a weak strategy.
From the get go, it looked as if Club Brugge already knew how the whites would approach the match and the first half played very well to their advantage in which both Luka Modric, Sergio Ramos, Carvajal and Casemiro all looked but a shadow of themselves while Lucas Vasquez constantly incurred the boos of many.
Starting from the line up, I for one expected Alphonsus Areola to play ahead of Thubiat Courtois, Luka Jovic ahead of Benzema, Vinicius Junior ahead of Lucas Vasquez and Fede Valverde in place of Toni Kroos or Casemiro. Why, because all these players have consumed time and energy in the past three La Liga matches in which they ran their socks off to not conceive a shot, let alone, a goal. Zidane instead chose to abide by his most preferred 11 and by half time, the terrible high-line playing Real Madrid team were two goals down.
The first goal conceived very much dictated the outcome of the match as it made Real Madrid attack more and Club Brugge seek for more punishable mistakes. Varane should have not gambled with his approach as he didn't properly read his area while Thubiat Courtois was unprofessional with his balance as he watched a misplaced shot roll past him and into the net.
The second goal was very much Luka Modric's fault. It is the first time in a very long time I have seen the Croatian perform so badly. He misplaced lots of passes and didn't flow very well like the Modric we always knew. One of his misplaced pass led to a second unprofessional display by Thubiat Courtois and Real Madrid went 2 goals down.
A half time prep talk and two changes in Areola for Courtois and Marcelo for Nacho would find Real Madrid attack with more fluidity and although they find the Brugge defence difficult to break, they managed to equalize through Sergio Ramos and Casemiro, both scoring beautiful headers.
Conclusion
The draw against Brugge wouldn't have been made possible were it not for Sergio Ramos and Casemiro, both scoring headed goals and it goes a long way to point at the poor attacking flow of the Real Madrid team. Bar Hazard's close shot, no other attacker came close to as playing a shot on target which is unbelievable considering a team of their caliber.
Another point worthy of note is Zidane's blind trust on players which is making him produce the wrong line up on some occasions. I am very much aware that the French coach isn't perfect but there are some decisions that is worth criticizing. Zidane's love for Vasquez made him start the Spaniard in place of Vinicius Junior and Real Madrid lacked cutting edge in the final third for the entire match.
The Spaniard might be defensively sound and average in attack but he apparently doesn't offer the directness of Junior and as such, it is mandatory that Junior starts ahead of him in every game.
I will be breaking down more on this Real Madrid team in coming days, stay tuned for more updates.
Thanks For Reading