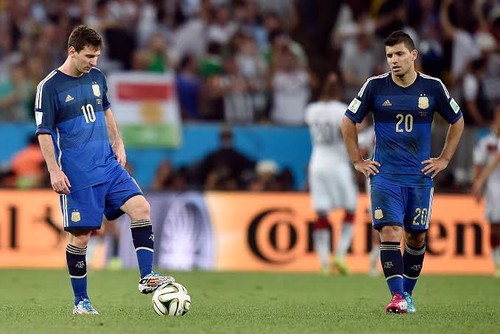 With just a loss to Venezuela in the international break last week, someone, somewhere reading this article would harbor the thought of me going too far with my title of the Argentina National team but I plead patience and effort to read down the entire article and see why I decided to label them "Most Unfortunate Team Of The Century".
This is my entry for the weekly Happy Moan-Day contest organized by Pete. It is one of the two contest he organizes weekly and its benefits are unrivalled on the platform. Are you a new user, are you struggling to gain attention for your work on Scorum? Click HERE for more information.
Have you Googled the Argentina team of the 21st Century, No? Well let me fill you in on the details.
The Argentina team of this century possess the likes of Angel Di Maria, Gonzalo Higuain, Sergio Arguero, Eziquiel Lavezzi, Mario Icardi, Dybala, Ever Banega and the tagged almighty god of soccer, Lionel Messi. The aforelisted players is to name but just a few of the players in a star studded Argentina team. This same team with these superstars lost three consecutive finals, two against Chile for the Copa America and one against Germany in the 2014 world cup.
Now, anyone who is a football fan or knows even little about football must know at least one of those players and that definitely should be five times world best player and breaker of records, Lionel Messi. However, something is odd about my list up there and that is, every single player on that list is an attacker, which begs the question, if every player attacks, who controls the game and who defends? Very nice question.
Argentina are well known to be a country that produces experienced players over the years. They have participated in five world cup finals, winning two and losing three, the latest loss coming at extra time in Brazil, 2014. Questions are raised as to how a team filled with stars, players that are irreplaceable at their respective clubs would constantly fail on the big stages and cannot win anything together. A research of mine have me blowing the trumpet boldly on a failed domestic breed of players.
The Argentina local clubs are reported to have preferred business over nurturing of talents for the national team. The poor state of Argentina's domestic soccer is mostly down to lack of money and as such, promising players are being sold out quickly to European clubs or investing firms taking over the local clubs and hoping to make profit by selling off youngsters. Now, most of these stars sold are mostly attackers because they draw faster attention and fetch quick money hence huge attention focused on breeding attackers.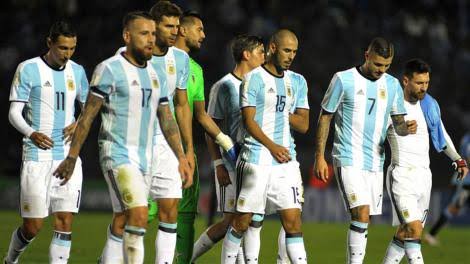 The Argentina team are very weak defensively. They are without a strong and solid midfield and defence hence their over reliance on Lionel Messi to do his usual magic and when the Barcelona star is out marked, the team becomes blunt and with little or no ideas. This lack of cover at the back and the midfield is the reason Argentina are yet to win a national trophy for the past two decades.
Lionel Messi once resigned from the National team prematurely after a reported rift with his country and many pushed for his return. Fortunately for Argentina as a country, the superstar returned to the team and played a part in their latest friendly against Venezuela but had to be substituted due to injury, a match Argentina later lost by 3 goals to 1.
There are so many issues needed to be addressed by the Argentina board, it includes the diversion of attention to the midfield and defensive base of the team as Rojo and Otamendi are not enough to hold the fort against resilient and smart teams.
A quality coach who knows to manage a team filled with superstars and a tactician is also needed as it was clearly lacking in their world cup journey.
My advice to Argentina as a country is, "A man realizes and acknowledges his mistakes is indeed a man destined for success". I hope the Argentina team is looked into and whatever is hindering their progress, discovered and obliterated.
THANKS FOR READING..