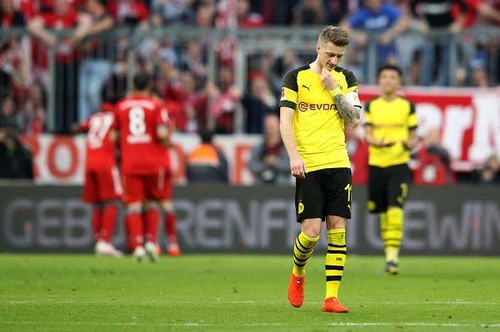 Just when it looked like Borussia Dortmund would bring Bayern Munich's German dominance to an end, the annihilation of last season in this same fixture reoccurred. Bayern Munich thrashed Borussia Dortmund at the Alias Arena to go top of the league.
This is my entry for the weekly Happy Moan-Day contest organized by Pete. This contest is created to give users something to write about weekly and most importantly, help grow new users in the form of rewards and recognition. Click HERE for more information.
The Deciding Match
A do or die encounter this match was. A match most likely to decide which team ends up with the Bundesliga crown.
Borussia Dortmund came into the match atop the table with two points separating them and second place Bayern Munich. A win would see them take a huge step towards lifting the title as they have more less difficult matches left in the league.
Bayern Munich if at all they harbored the intention of winning the league at all cost, and I would say they do because losing the league would mean they end the season trophyless for the first time since 2009.
Anything other than a win for both teams would favour Dortmund as they would retain their two points lead and hope to consistently see off the remaining teams they face before the season ends.
The pressure was weighing in much also on Bayern Munich's coach Niko Kovac. It looks very likely that the curtain would be drawn on his stint at Bayern if they lose against Dortmund which most likely mean they end the season trophyless.
This fixture last season witnessed an annihilation of Dortmund and the odds were in the favor of Bayern Munich considering the head to head statistics prompting Kovac to release a statement in the prematch conference roaring, "Second place is the first loser, we have to win". Borussia Dortmund's coach was more reserved with his statements which reads, "If we win, nothing is decided. If we lose, nothing is decided and same with a draw. The league is still very much open for both teams".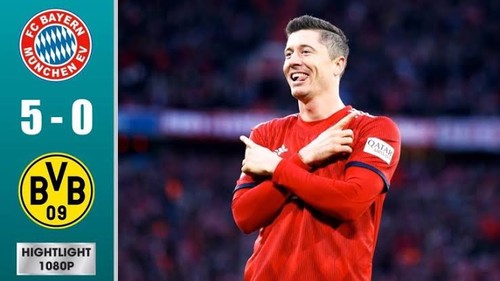 Those were words of coaches very much aware of their situation and trying to give themselves hope should things go south and south it went for Favre's men.
A 23,22 and 19 year old defence was ripped apart by the Bayern Munich players under 45 minutes. Last season, at half time Bayern Munich were 5 goals up but it was 4 goals this time at half time, whereas it could have been 6 or more had Bayern been more clinical with their chances. Lucky Dortmund isn't? " Covers face with palm".
The inexperienced youthful defence of Dortmund was exposed time and time again, Zagadou was the main culprit being pitied. A horrendous pass to teammate was intercepted and led to Bayern's second goal and he was turned inside out for the third and found wanting for the fourth. A day to forget for the young defender.
Favre's tactics appeared to have backfired as Gotze and Welgi left on the bench with hopes of coming in to change the game was dashed. Welgi came on at half time in place of Zagadou and Gotze later had his cameo but both could do nothing to correct the mistakes of the first half and they ended up on the losing side still.
Another opportunity to win the Bundesliga league title by Dortmund blown away. My advice to Borussia Dortmund is, "it is not over until it is over". There are still matches to be played and a chance to still overtake Bayern Munich is still on the cards. BEST OF LUCK DORTMUND.
THANKS FOR READING..