In the early weeks of March and within the space of 11 days, Real Madrid's season ended in the most disappointing and embarrassing manner quite unexpected from a team of their calibre.

This is my entry for the weekly Happy Moan-Day contest organized by Pete. It is one of the two contests he organizes weekly and they are created to help build Scorum and its users, especially the new and unrecognized accounts.. Click this LINK for more information.
The Fall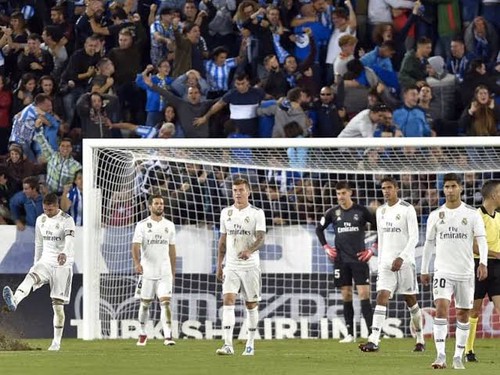 You would agree with me that all around the world in the last three years or if I am to include 2014, the last five years, there was just one club team feared most, respected and referred to as the best club team on the planet, Real Madrid. A team is included in the class of elite teams according to their history with world competitions and that is one Real Madrid has excelled in most.
Considering recent happenings, Real Madrid resurrected their unquenchable strive for European success/glory in 2014 after getting as far as the semi finals for 3 consecutive seasons under Jose Mourinho from 2011-2013. The year 2014 saw Real Madrid break whatever jinx that has been holding them back and secured their long awaited 10th European crown. They missed out on the next season by a scratch and returned in 2016 to retake what was theirs, retaining the trophy for the next two years, taking their total to 13, 6 more than the second highest winners, Ac Milan.
Within that three years of European dominance saw Real Madrid win two major trophies in a season since 1956, cementing their status as the most successful team both in Europe and In Spain with only Barcelona the major challengers domestically.
Everyone was beginning to get used to Real Madrid conquering Europe like it was their birthright and playground until it dawned on them that the mistake they made during the summer has come back to haunt them.
In those triumphant years in Europe, one major player made it possible Real Madrid achieved their aim of conquering Europe and that was Cristiano Ronaldo. It is one thing to play football and it is another thing to win in football. Ronaldo not only played for the team, he won for the team, scoring very crucial goals and taking them step after step until thw trophy found itself in their grasp but the worst happened in the summer, Ronaldo was sold off to Juventus of Italy.
Now, selling Ronaldo isn't the problem but finding his replacement was. A player that scores over 50 or more goals every season, why sell him without providing someone that can replicate such consistency in front of goal?
Before Ronaldo was sold, coach Zinedine Zidane who oversaw the triumphs resigned without leaving any trace as to why exactly he resigned with only "I need a rest" the words he dropped at our door steps.
These two men were very essential for the Real team and it was going to be a miracle Real Madrid will conquer Europe again without them.
Last midweek was a chance for Real to qualify for the Quarterfinal stage of the European competition at the back of a 2-1 first leg win away from home. However, to the greatest surprise of everyone, Real Madrid were weighed, measured and were absolutely found wanting in front of their fans. Succumbing to a 4-1 defeats by a youthful Ajax team very inexperienced in Europe but with wit, stability and belief, they tore the popular white shirt into shreds and left them open to the scorching sun.
Real Madrid for the first time in 9 years, Real Madrid Madrid exited the European competition at the knockout stage, very difficult to believe but yet it happened.
Lethargic, woeful, Real's dreadful performance against Ajax was hit the final nail on the coffin concerning their season after after rivals Barcelona has knocked them out of cup competition and extend their lead on the table, it was only fitting Real Madrid withdraw into their shell and do some thorough thinking.
My advice to Real Madrid is, "Everyone has misfortunes, every team has an off day, how you bounce back from these unfortunate incidents of life is what matters most. I believe Real Madrid will come back again, bigger, better, stronger."
THANKS FOR READING..