Most of the difficult and seemingly impossible things we turned possible in life or those likely unachievable level we attain in life, without an iota of doubt, we all did them with luck on our side. TAKE IT OR LEAVE IT.
This is my entry for the weekly Happy Moan-Day contest organized by Pete. It is one of the two contests he organizes weekly and the benefits are underrated. Not only does it bring the platform users together and gives one something to write about weekly, it also helps the contestants gain knowledge, recognition and most importantly, rewards. Click on this LINK to join the moving train.
You cannot define Real Madrid football club without attaching "Best Club Team On The Planet" in your definition. They are regarded as the best because they bested other teams in attaining lofty heights, domestically and internationally.
As a fan of the club, I wasn't born yet when Real Madrid once ruled the world of club football in the 50s' down to early 2000 when I became a fan. After becoming a fan despite being dearth of their history, I enjoyed the glorious moments of that period, including Zinedine Zidane's popular acrobatic outside eighteen yard box kick to score the winning goal that won them the Europe competition in 2002. Since then the European success dried up and they fought for years to pick up their pieces until recently when the same Zinedine Zidane that last made them smile internationally on the field gave them another reason to smile from the bench as an assistant manager. As fate would have it, Zidane would later end up becoming the main coach and he led his team to three consecutive European titles, a feat no team has achieved since the competition was renamed in 1999.
Let's Take A Walk Down Memory Lane.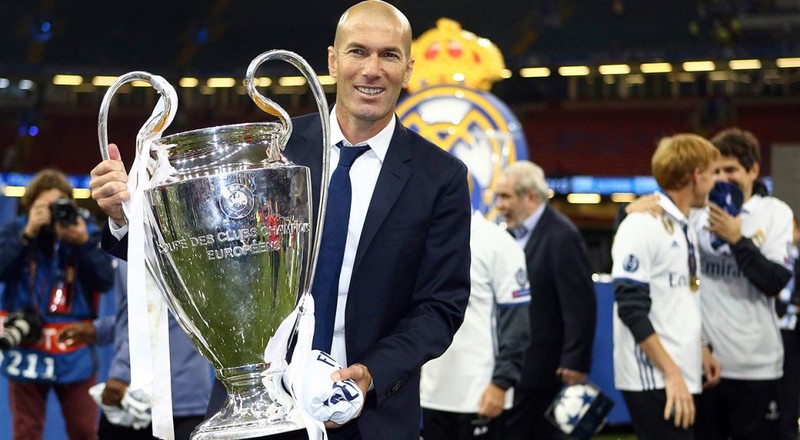 You didn't think Zidane won those trophies simply because he had gods of football in his team or his team play the best football planet earth has ever since or something of the sorts. As a matter of fact, during those three years of success, his team were never amongst the first 10 teams playing quality football in all of Europe but at the last day, he always came out on top with his team. One of the major factors was down to determination and efforts but luck had to play its role.
I remember them going against a Bayern Munich team led by Carlo Ancelotti, a man regarded as a great tactician who knew the European tournament like it was his play mate and is considered one of the most successful managers in Europe, did I mention he was the main coach with Zidane as his assistant when European glory returned to Real Madrid.
The tie between the teams was breathtaking, Ancelotti's team saw much of the ball for two legged 180+ minutes but ended up exiting the competition at the hands of the whites because they simply cannot understand how they failed to convert most of their chances into goals.
Another season, the last for Zidane at Real to be precise saw his team beat Juventus 3-0 in the first leg and conceded the same three in the second only for luck to grant them a penalty in the dying stages with the huge pressure on them. The penalty was later converted and Real Madrid went through.
There were matches, especially the final match of Zidane's final season where the opposition goal keepers cannot explain what happened to them and Real Madrid had their way, it was all mother fate's luck hovering round them.
However, after Zidane left, their best attacker ever was sold, that luck that has always hovered around Real Madrid has been clearly found wanting, never again are they counted lucky despite all the striving. The last midweek encounter against fiercest rivals Barcelona made it quite clear that Real Madrid has ran out of luck as they huffed and puffed but still ended up getting crushed.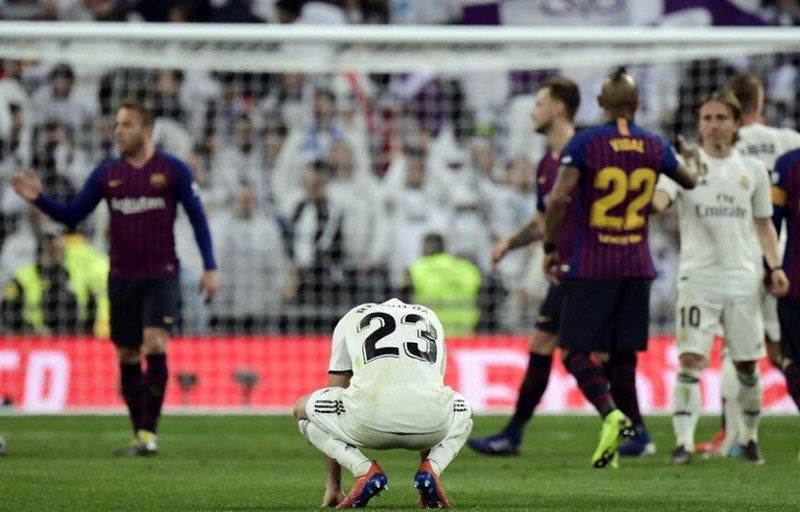 They haven't had a good season generally, no doubt as their season has been on a rollercoaster state but they are known to be more serious and committed on the big stages. Against Barcelona they were the better team all round, carving out chances but failing to convert them into goals. Goals that would go in on a normal day couldn't go in on that particular day and Barcelona got their first real chance of the game in the second half and converted to go 1-0 up.
Real Madrid continue their search for that goal that has eluded them from the first minute but still could not find it until they converted another goal through their own player, an own goal, further condemning them to losing and a terrible night.
They ended up conceding another, losing 3-0 on a night they were clearly the better team in every area on the pitch, such jinx has never been known with Real Madrid but there they were, condemned to an inexplicable and unexpected loss but what would some say, "SOME DAYS ARE LIKE THAT".
My advice to Real Madrid is, "I could remember a period in their history when they were ruling football and another period when they were not the talk of the moment. Everything in life happens when the time is right. Therefore, they shouldn't look at that loss or the unfortunate days as the end of their careers, they should keep on fighting, their time to shine will come again."
THANKS FOR READING..