"This is the real Manchester United" De Gea declared after producing a masterclass performance against Tottenham and avenging their loss in the first leg with heroic saves.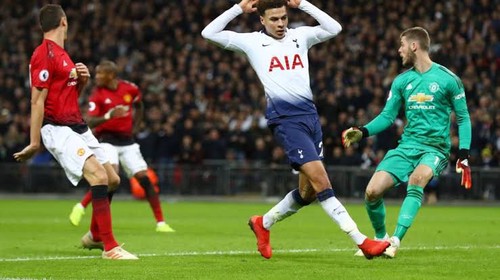 This is my entry for the weekly Happy Moan-Day contest coordinated by Pete. You barely find these kinda contests on the platform and it comes with its amazing benefits. You gain knowledge, recognition and above all, rewards.. Click here for more information..
It was a game against Manchester United, a match that was mainly centered on deciding the league table and a rumour.
The rumour of Tottenham's coach Pochettino replacing the sacked Jose Mourinho and then the stepping down of current interim manager of the red devils, Ole Solskjaer.
Prior to the match, Tottenham sat third in the league table, 5 points below second place and nine points off first place. A win would have seen them maintain their hope for the league title.
It was a battle of revenge for Manchester United after they were beaten 3 nil at home in the reverse fixture in the league in August 2018. With both coaches out to prove a point, United revived under Solskjaer came out with a game plan that thwarted that of Pochettino. The right backs of Tottenham were clearly targeted by Solskjaer. He deployed wingers Anthony Martial and Marcus Rashford who were a constant thorn in the hearts of the right backs especially Vertonghen who was returning from injury and was apparently not match fit.
Jesse Lingard was played as a false nine and he constantly linked up with the midfield and played a vital role in pinning Tottenham's players in their own side of the pitch..
Tottenham's night was to get more worrisome and ugly when the energetic Sissoko left with an injury. Unfortunately for them, it turned out he was the man preventing the red devils from finding the net for immediate he left, Manchester United scored.
Pochettino would later detect the problem with his team and sent Son to overload the flanks. This worked to great effect as Tottenham came out in the second half with a different game plan and a stronger approach. They ran at Manchester United with all they have got, crossing, shooting, heading, they had several chances to score but was denied constantly by the defenders. Whenever they crossed the defence, they were met with a wall in the person of David De Gea that just could not be beaten. The Spaniard either used his leg or his palm to shut down Tottenham's opportunities and made sure Manchester United grabbed all three points and so it happened.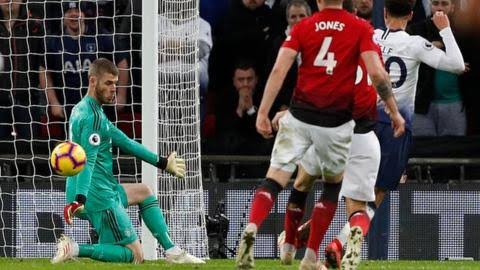 Pochettino's men simply had no reply to such heroics and at the end, they ended up failing to bring down the wall and falling further behind in points to the top two.
To compound their misery, striker Harry Kane appeared to also pick up an injury towards the end of the match and Son would be leaving for Asian Cup after the match. Although they still sit third but their hopes for a title challenge just got slimmer.
My advice to Pochettino and Tottenham is, failures or ill lucks is part of life, when you fall, stand up and go again. When things doesn't go your way, do not give up, pick up the pieces and move on. Yesterday is gone forever, today hold another opportunity, go for it.
THANKS FOR READING..