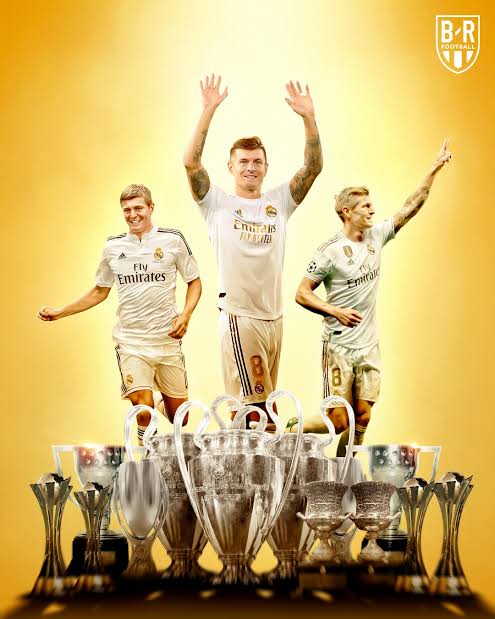 Hoping to retire at Real Madrid is just like aiming for a pie in the sky. It is undoubtedly an herculean task because the club's foundation is laid in such a way that success is pursued on daily basis and at all cost, even if it means releasing a player that has given his heart and soul for the team.
Legends have come and gone at the Bernabeu, and most of them once or always wished they had finished their career at the Spanish capital club. The likes of Casillas, Sergio Ramos, Roberto Carlos, Raul Gonzales, Cristiano Ronaldo, Sergio Ramos, etc, are all legends of Real Madrid but had to leave at some point, either when they are seen as surplus to requirements or when they are seen as business.
Kroos on the othe hand has won everything there is to win for Real Madrid and has been playing at the very top for them for over 7 seasons now. In that period, he has won three champions league titles and two La Liga trophies, alongside other individual awards; he is already a legend of the team and it is no surprise he wants to retire there.
Kroos' contract will expire in 2023 and the midfield maestro is hoping for the club to tie him down for more years as he sees off his playing career.
"I deliberately chose the contract period when I last extended, because then I would be 33 and it be a good age to think about how to continue," Kroos told Sky Sport Deutschland.
"However, I don't need to think about it, there is an incredible relationship with the club that I would never put at stake for some kind of speculation.
"I think that is the case on both sides, I want to end my career here and it will happen that way, when exactly that will come I can't answer exactly, if that will be in 2023 or a year or two later."
According to analysis, Kroos' wish might come true and he might actually be the first of many Real Madrid legends to retire at the club since Zidane did in 2006. He wishes to retire at football early and if he manages to sign a new contract, the odds are pointing to him waving the final goodbye to the Bernabeu faithful.