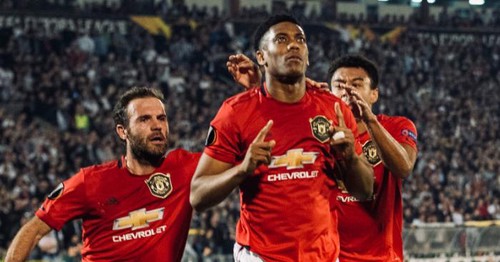 There is no denying that Manchester United are the complete opposite of the Red devils we have always been accustomed to seeing both home and away. Heading into the encounter with Partizan Belgrade, it was Manchester United's sixth game without a win, unacceptable for a club of their standard.
Injuries has without doubt, played a part in disorganizing Coach Ole Gunnar Solksjaer's plans and demoralizing his team. With Anthony Martial, Luke Shaw and Wan Bissaka out of the team through injuries, Manchester United deeply suffered.
The sufferings of Manchester United led to football analysts calculating a possible relegation happening for them but we all know nothing lasts forever.
With last weekend's encounter came a breath of fresh life around the Old Trafford faithful as Aaron Wan Bissaka and Anthony Martial appears to have returned from injury. Anthony Martial was given a run out against Liverpool last weekend. A match in which many thought Manchester United would be easily swept away but the red devils stood their ground and fought hard for the complete 90 minutes. Bar a slow calculation from Ashley Young, Manchester United would have been eventual match winners and stopped their winless run at five.
Their ship will see them sail to Serbia next in the group stage of the Uefa Europa League in which injury returnee, Anthony Martial started. The France international would go on to score a first half penalty for his team which would end up becoming the match's lone goal. It is true that Partizan Belgrade caused the United defence all kind of problems but Manchester United prevailed at the end.
Thanks for Reading