Four consecutive losses at the Bernabeu in 11 days sums up Real Madrid's disastrous season especially last night, when they succumbed to a humiliating home defeat against a highly spirited youthful Ajax team.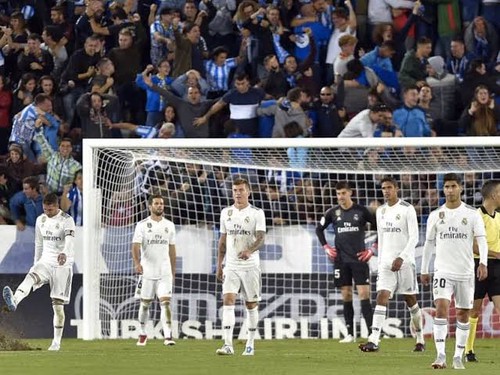 It is quite over as it stands for Real Madrid as their season hit an abrupt and disappointing end last night against Ajax in front of their own fans. For the first time in 8 years, Real Madrid were eliminated from the knockout stage of the Uefa Champions League, a tournament they have won four times and exited at the Semifinals four times as well in the span of that period.
Many talks has been going on over Real Madrid's rollercoaster ride of a season starting from when Julen Lopetegui was still manager of the team early in the season up until Solari took over. Although things did improve under the Argentine manager but all of a sudden, it went blur and then dark again and as early as March, Real Madrid fans are already looking towards the next season which is a very rare and unbelievable occurrence considering the standard expected from the team.
Who Is To Blame For Real Madrid's Disappointing Season?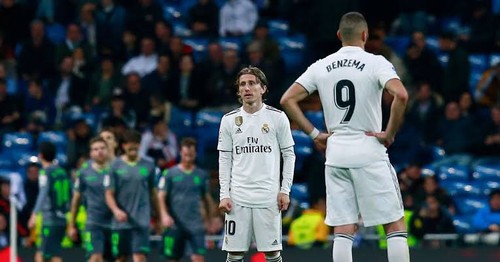 First it was a 2-1 loss to Girona in their home turf because of the embarrassing switching off of the team's midfield and defence which was capitalized on by the Girona players, two El Clasico encounters followed against Barcelona at home, second leg of the Copa Del Rey and second leg fixture of the league. Real Madrid didn't look all disappointing even though they lost both fixtures, they played impressively especially in the first but a factor was clearly lacking in the team, a pure goal scorer.
They sort to salvage their season with at least a win in the follow up match against Ajax for the returning leg of the Uefa Champions League. With an advantage over Ajax after winning them by 2 goals to 1 at Amsterdam, Real Madrid needed a win or draw or at least not lose with more than one goal. With Sergio Ramos out, the defence of Real Madrid was torn open time and time again. After Toni Kroos was dispossessed in the midfield as early as the 7th minute, leading to an Ajax early goal. 20 minutes later Ajax carved a disorganized Real Madrid defence clearly lacking the organization of captain Sergio Ramos open again and Modric failed to track the run of Neres who ended up scoring to take the Dutch men ahead.
Things got from bad to worse for Real as they lost two of their most brightest players of the match to injury, Lucas Vasquez and Vinicius Junior. Asensio and Gareth Bale were brought on for the two and both didn't play that badly and are not to be blamed for Ajax's controversial third goal after the ball appeared to be gone out for a throw in before pushed back into the field.
Asensio gave the whites belief that they can still pull off a qualification with a goal in the 71st minute but a wild and glorious freekick from Schone found Courtois wanting and increased their lead to 3 and a total of 4 goals at the Bernabeu. The match ended in a more humiliating manner as Nacho Hernandez of Real Madrid collected a second yellow and had to leave the team one man down.
The first loss against Barcelona in the two consecutive matches last week ended their hopes of lifting the Spanish cup, the following loss against Barcelona left them 12 points below top spot and last night's loss against Ajax in the knockout stage of the Uefa Champions League signalled the end of a terrible season. With all the inconsistent displays of the team and their poor run of form this season, you ask who is to blame? Let's take a walk down memory lane.
Ronaldo's Departure, Perez's Failure To Sign A Replacement, Non-Tactical, Inexperienced Coach and More
For the past five seasons, Real Madrid broke series of impressive records, that includes lifting the most prestigious trophy three consecutive times, a feat no team was able to achieve since it was renamed at the turn of the century. They achieved all these under the management of French legend Zinedine Zidane, an inexperienced coach who had a distinction in just man managing his players. With that manmanagement and a little bit of learning tactically, Zidane utilized the experienced squad at his disposal, gave them a reason to belief and the determination spirit and then marched off to glory.
Within that team had a player who averages 50 goals per season, Cristiano Ronaldo. A prolific goal scorer who acknowledged age is weighing down on him and sort to switch his style of play into one that does not affect his goal scoring proliferation. The summer prior to this season put an end to Ronaldo's 9 year stint at the team after he was sold to Juventus. There were reports of a rift between Ronaldo and president Florentino Perez and the president ended up allowing the Portuguese wizard leave. Allowing Ronaldo leave was not the problem but failing to replace him was. It was clear as crystal that for the past 9 years, he has been the team's top goal scorer and allowing him leave without a replacement was the most absurd, irritating and funniest mistake of the century.
Benzema who has been much of an assistance to Ronaldo during the Portuguese's stay at the team has tried to push in the goals but he has not hit the strides of the Portuguese especially in the most important matches.
Solari took over from Lopetegui weeks into the season and began a reshuffling in the team. He did great by helping Real Madrid discover the future prospects and rediscover the form of the once praised youngsters in the team but there was one problem Solari had and it clearly affected the team negatively and played a huge part in ending their season as early as first week of March.
The favorable flat 4-3-3 formation of Solari became predictable and was explored and exploited by strong teams. With the midfielders and the wingers helping to cover the right and left backs, who will push forward in attack? Whenever one of the midfielders and wingers push forward to attack, the team became susceptible to counter attacks. Under Zinedine Zidane, he made sure there was an attacking presence and as well a defensive presence, ready to cover up the overlapping of either the full backs, central defenders or midfielders, in a nutshell, Zidane built a solid team, oozing of class and quality in all positions. This was however lacking in Solari's situation as the Argentine stuck with a flat 4-3-3 formation and only tried something different against Real Betis and Real Sociedad as a result of injured team. Things got from bad to worse when he used the same eleven match after match, leaving the team very predictable to opponents.
Conclusion
Sergio Ramos' ploy to see out his suspension after alleged to have purposely collected a yellow card in the last encounter against Ajax, to be free of the fear of being suspended when the team gets into the crucial stage of the competition backfired as the defence and the team clearly lacked his leadership and organization last night.
I wish I could analyze more but I might just get emotional on the way and it might become boring so I am going to have to end it here but one thing is certain, Real Madrid will be back again, bigger, better and stronger.
THANKS FOR READING..