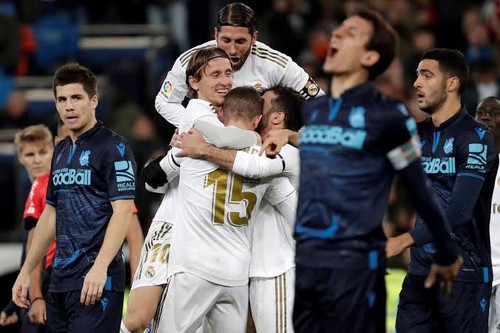 It happened like a miracle, so very much unbelievable. From the back of an unimpressive wins, draws and losses to PSG and Mallorca since the start of the season, Real Madrid has turned out to be a force to be admired and envied.
Just weeks ago, we were constantly reminded of how much we still Miss Cristiano Ronaldo despite spending a season without the Portuguese. A huge amount of money was spent in the summer to sign replacements and those replacements seemed not to be equal to the task as the laments of last season continued.
However, although Real Madrid played that match without much of their regular starters, the 1-0 loss to Mallorca turned out to be the situation that made Real Madrid gear up. The whites has gone straight 8 matches without a loss and with fewer goals conceded not to mention the huge numbers scored. Not too far ago, we were lamenting over the lack of goals in the team but at the moment, even strikers, midfielders and defenders are scoring.
Zinedine Zidane appears to have found the balance he has so much been looking for in the team and summer signing and Cristiano's seemingly replacement; Eden Hazard appears to be finding his feet at the Spanish capital by each passing match.
As it stands, a win for Real Madrid in the upcoming El Clasico will decided if the whites have got exactly what it takes to lift a trophy this season.
Thanks for Reading