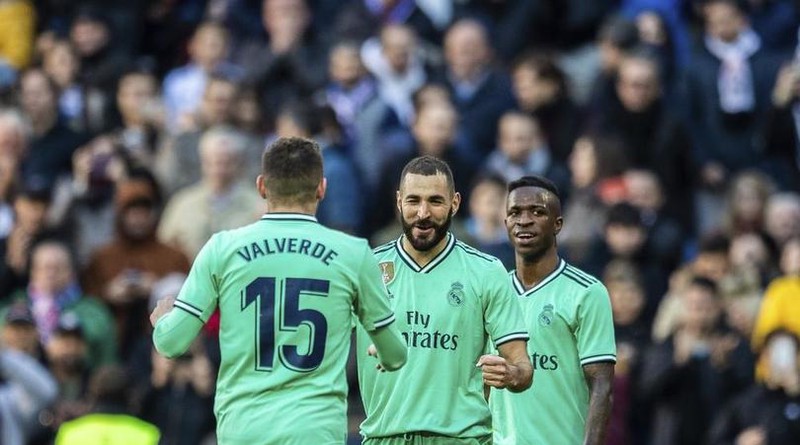 It was a Brazilian attacking show at the Bernabeu yesterday as coach Zinedine Zidane, for the first time this season, rolled out two young Brazilian wingers, Vinicius Junior and Rodrygo goes in the left and right wings respectively.
Due to injuries to Hazard and Gareth Bale, Zidane was left with little option as to who will occupy the space left behind and he was forced to turn to Real Madrid's brightest player in attack last season, Vinicius Junior and another miracle this season, Rodrygo Goes.
The lineup included: Courtois in goal, Sergio Ramos and Raphael Varane partnering each other in defence, Dani Carvajal at right back and Ferland Mendy replacing the injured Marcelo at left back.
The midfield witnessed the ever present and consistent Casemiro, Toni Kroos and another promising youngster in Valverde while Rodrygo and Vinicius flanked Karim Benzema.
The match started with Real Madrid carefully controlling proceedings and searching for a free entry into the 18 yard box of the Espanyol team. The Catalan team was impressive with their compactness and pressing. It was clear Hazard was very much missed as the connection we are getting accustomed to seeing in the left flank was missing. Karim Benzema especially seemed to be feeling the miss the most as the Frenchman seems to have already created chemistry with the Belgian attacker.
Real Madrid's best chances in the first half came through the skillful Vinicius, who used his pace and skill to break through the Espanyol defense time and time again but was still typical Vinicius, lack of end product.
The goalless score line continued until the 37th minute when Benzema played a pass through to Varane who was still lurking around the opposition's penalty area following a corner, the French defender curled the ball towards the bottom right corner with his left foot to open his goal account of the season.
Real Madrid missed several chances through Benzema and Vinicius especially but the Frenchman finally out his name on the score sheet following an impressive play from Fede Valverde. The match ended with a 2-0 score line and Real Madrid can feel satisfied with their performance.
The pressure at the top remains until next weekend when both Real Madrid and Barcelona will be facing much tougher teams, let's keep our fingers crossed.
Thank you for Reading