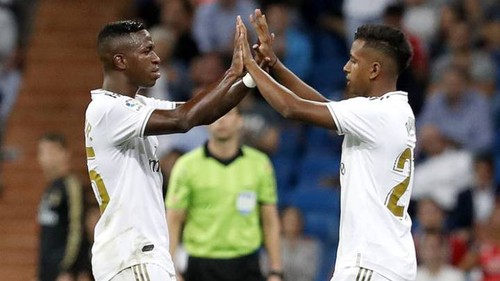 This is the story of two Brazilian youngsters who travelled all the way from Brazil to Spain in search of more exposure and success.
Somewhere in Spain has witnessed two of Brazil's future stars in Rodrygo Goes and Vinicius Junior, both 18 and 19 years respectively.
Vinicius was the first to be signed up from Brazil by Real Madrid before Rodrygo was snatched away by the Spanish club as well.
In Vinicius' first season at Real Madrid, he was made to start with the Castilla (Real Madrid Team B) and it continued that way until he was brought into the first team for a Copa Del Rey encounter.
That match against Mellilla is strongly eked in my heart as I watched with keen interest as Vinicius ran the show with amazing runs and dribbles, something we have been missing since the days of post-Cristiano.
Rodrygo would not long after, arrive Real Madrid and just like his elder brother, first started with the Castilla team and just recently, was brought up to play against Galatasaray in Europe's elite competition.
Rodrygo and Vinicius Junior are players who are similar in many ways but yet different. The major talent of these players is bent on dribbling and wowing the crowd but then, Rodrygo is currently seen as more worthy of first team call up than Vinicus. Reason being that the younger Brazilian appears to be more calm, calculative and composed in the final third as opposed to Vinicius.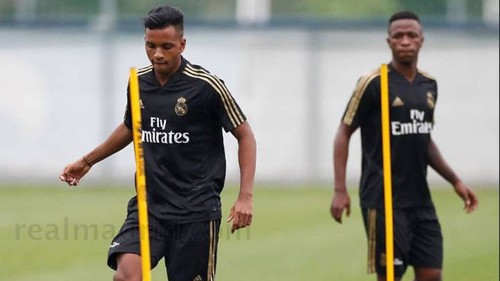 Vinicius is more pacey, strong and energetic between them but the end product of the 19 year old is very much lacking compared to his junior compatriot. Time and time again Vinicius does everything right until he gets close to the 18 yard box. Poor decision making in the final third when there seems to be a goal scoring problem in the team is exactly what is keeping Vinicius from being a first team regular.
One other aspect worthy of note which negates Vinicius' inclusion in the first team line up is the difficulty he faces in adapting to the wants of the right wing. This is a wing Rodrygo was deployed in against Galatasaray and the 18 year old played like he has been playing there all his life. He adapted quickly and made sure he kept to the tactical shape set up by Zidane. On several occasions has Vinicius been deployed on the right wing but he has failed to impress from there.
What the future holds for these players is unsure but one thing is certain, provided they are willing to work their socks off in other to improve, they will someday, rule the world of football.
Thanks For Reading