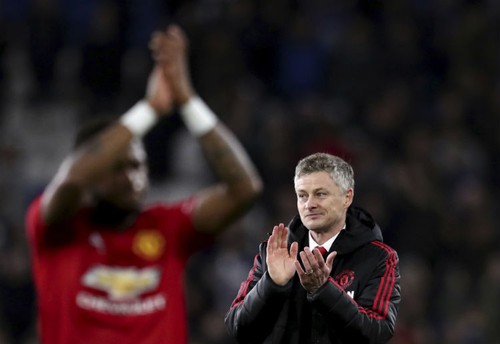 From a very distant location, one could hear the echoes of joy coming from the walls of the home of all footballing dramas, the Old Trafford of Manchester United. That feeling of ecstasy and ebullience once found wanting few months ago under the canopy or management of Portuguese tactictian Jose Mourinho has returned. When United play now, you feel refreshed and United again.
This array of confidence hovering round the team was made possible with the appointment of former player and now manager Ole Gunnar Solskjaer. The Norwegian has overseen 11 matches since his takeover for temporary reign of the team and has won 10 and drew one, a nearly flawless record.
Once could argue he hasn't faced bigger tests, but that argument arose and was thrown into the waste bin for what it was, a thrash. He has played competitive teams in the league, teams like Arsenal and Tottenham and came out unscathed. Bring up the argument of an European tough test and I think I will listen.
Ole's Manchester United team will be playing a Neymar-less Paris Saint Germain at Old Trafford later today and all odds are pointing at the Red devils to win or at least, avoid a lossw. The form of Manchester United is to be noted down when checking the stats and calculating the odds and it clearly puts them on the driving seat to victory.
Also, the fact no French team has ever won at Old Trafford is another odd pointing against the French champions and also the absence of their Brazilian talisman, Neymar Junior is also an odd against them.
That not withstanding, P.S.G still has all it takes to leave Old Trafford with a win or a tie battle. World cup and Golden ball winner, Kylian Mbappe is still a force to be reckoned with and as well, Angel Di Maria and Edison Cavani. The trio are very well experienced with the competition and would most likely approach the match like it was an ordinary league match and dominate.
Manchester United's coach Solskjaer would be hoping to win his European derby as a coach and hope his team be at their best and produce the same oneness display they have produced in the league for the past 11 matches.
THANKS FOR READING..