Have you ever had to wait for something for a very long time, and then you come seconds away from either acquiring or losing it? Imagine the feeling.
This was the case of Real Madrid on 24th May, 2014
Ever since they last won the Uefa Champions League in 2002, and having won it for a record nine times in their football career, the Capital of Spain club embarked on a lengthy European adventure without another win.

Real Madrid were recognized as the world's best club because of their European dominance to an extent they are imagined as a complete failure any season they didn't bring home the prestigious trophy.
In the span of that lengthy wait for another European trophy, they sacked several coaches, spent lots of money on superstar players and other investments, yet, the trophy eluded them.

It looked as though their fortune would be changing for the better when they started getting closer than they ever have since 2002.

In 2011, 2012 and 2013 Uefa Champions League seasons, they were one step away from the final but always lost to better teams by a close margin. In 2014 however, it was not to be the same story.

Lisbon was graced with the opportunity of hosting the final of the Uefa Champions League on May 24th, 2014. This final pitied Real Madrid and an Atletico Madrid that got to the final through sheer determination and resilience with a defensive wall that is almost impossible to breach.
Real Madrid got to the final after comfortably beating one of the top favorites Bayern Munich home and away. Atletico Madrid on the other hand sent Barcelona and Chelsea FC packing in the quarter and semifinal respectively.

Real Madrid knew what they were getting into and their talisman Cristiano Ronaldo was injured heading into the match and doubts reigned over his availability in the starting lineup.
The lineup however, witnessed Cristiano Ronaldo in it but we all knew he was to be playing under some painkiller injection because his presence would do the team a whole lot of good in terms of morale.

For the first time in a very long time, Real Madrid had less confidence heading into a Madrid derby and we all knew why; "Atletico Madrid's coach, Diego Simeone was ruthless with his molding of the team."
Not long into the first half, Atletico Madrid went ahead through a miscalculation from the Real Madrid defense, especially from their keeper, Iker Casillas who was caught out of position with a Diego Godin header. That goal only meant one thing, Atletico Madrid are ninety percent certain to end that match with a win, judging from their seasonal statistics.

They sat back comfortably and absorbed whatever pressure Real Madrid threw at them. The whites looked towards their talisman, Cristiano Ronaldo but he returned a look of helplessness. They huffed, they puffed and half time passed with Atletico Madrid leading.
The match restarted with Real Madrid dominating proceedings. This time for Real Madrid, someone else took up the talisman mantle, Angel Di Maria. Everything good about Real Madrid's attack went through him and he helped pressure the Atletico Madrid defense, pushing them further back into their own box.
In the second half, Real Madrid did everything good except scoring a goal. The clock ran down and ninety minutes passed with three minutes injury time left to decide the encounter. At this point, hearts were running at an abnormal pace, Atletico Madrid their opponents were already in jubilation, the Real Madrid players appeared to be concentrating on calming their hearts and accepting their loss rather than concentrating on the ball.

The Argentine wizard, Angel Di Maria never gave up. He continued terrorizing the Atletico defense and eventually won a corner for his team, THEIR LAST CHANCE OF THE GAME.

It seemed as though the spirit of hope returned with that chance. Everyone tried to stay focused, with the intention they have still got a chance to send the tie to an extra time. They all gathered in the 18 yard box of the Atletico Madrid team as they waited for Luka Modric to swing in the ball.
Immediately the whistle blew, Luka Modric swung the ball into the box and assistant captain, Sergio Ramos rose highest to meet it with a sumptuous header which rolled past the keeper and the stadium, as well as the world at large erupted.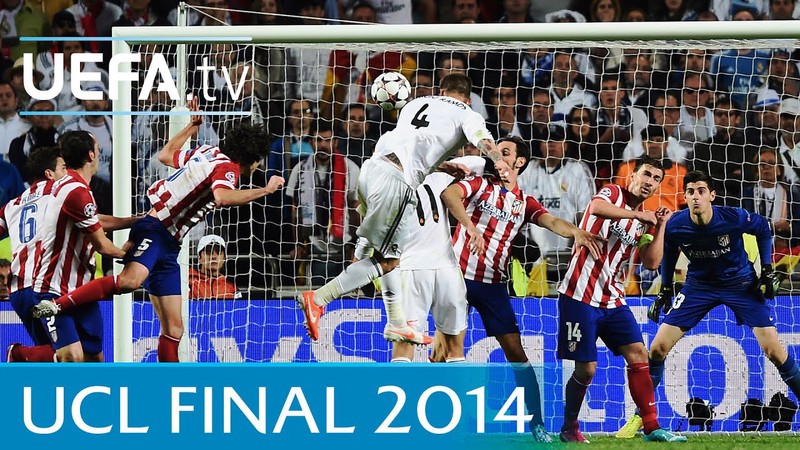 That goal sent the tie into extra time and Real Madrid scored three extra goals to claim La Decima (10th Uefa Champions League).
That goal from Sergio Ramos is simply indelible as it began another era of European dominance. Since that win, Real Madrid has won three extra Uefa Champions League trophies in the space of five years, including keeping a new record of wining the prestigious trophy three consecutive times.
Click below to watch the amazing and iconic moment of Real Madrid's history.

Thanks for reading