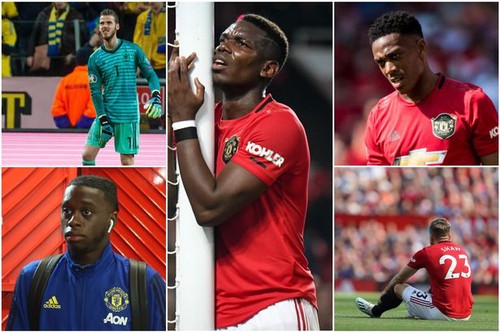 At the wake of events whereby Manchester United are getting deserved and undeserved criticism for producing woeful performances and sitting few points above relegation zone, goal keeper David De Gea has just worsened it.
The Spanish shot stopper was substituted in the middle of an international encounter between Spain and Sweden in which he limped off the pitch. David joins the list of notable absentees which includes Paul Pogba, Wan Bissaka, Luke Shaw, Anthony Martial and Jese Lingaard.
With Liverpool's fixture around the corner, United are looking the much weaker side considering how strong the Merseyside Red side has been all season. Liverpool are yet to lose a game this season and as opposed to their rival, they have less injury concern.
Manchester United might have a quality replacement for David De Gea in between the sticks but they cannot say the same for Anthony Martial, Paul Pogba, Aaron Wan Bissaka and Luke Shaw. As a matter of fact, all of these players' absence is the reason why United are currently in a poor state.
At the beginning of the season, Manchester United were firing on all cylinders, with their new signing in Aaron Wan Bissaka and Daniel James, there was a lot of positive vibes around Old Trafford.
It got hotter and merrier with a lambasting of Chelsea FC at the theatre of dreams and not long after that thrashing, everything gradually went dark. Anthony Martial, Luke Shaw, Aaron Bissaka all got injured and the joy once around the Theatre of Dreams faded.
Now, statistics is pointing at a miracle from Manchester United to beat Liverpoool. Let's face it, the Red devils are very much behind the Merseyside Red side in all areas of calculations and for them to win this weekend's tie would only be as a result of a miracle.
Thank You for Reading