As we know in the world of football, of course, they have their respective positions which are called Standings, but every match in a country certainly has Phase 1 and Phase 2. For example in the Spanish La Liga and the Spanish Adelante League, if one club from La Liga cannot collect points or get a position that meets the requirements, of course the club will be relegated to the Adelante League.
This is what is being felt by Rayo Vallecano, for now the club's standings are truly unfortunate, they are still in 19th place. Rayo Vallecano has 16 points in the 17th match, although Rayo Vallecano can still improve these points and still be able to compete with Athletic Bilbao and Villareal, because the points difference from the club is very thin.

Now, the question is whether Rayo Vallecano can get full points from Real Valladolid who is ranked 13. With high enthusiasm all can be overcome, for me this is a great opportunity for Rayo Vallecano to avoid relegation, even though they will meet home to Real Valladolid, but with pressure like this they will be able to win the match that will take place later.

<Center>As you can see in the picture below, Rayo Vallecano's position is very uncomfortable, the difference between points with his opponent (Real Valladolid) is 5 points.</center>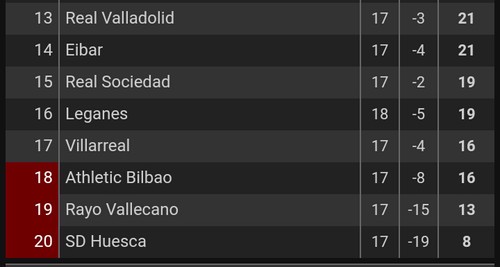 As reported by the site Debatbola.com said that the match will be very heavy for Rayo Vallecano, because the meeting between the two clubs results always favored Real Valladolid.
-Valladolid still dominates 14 wins compared to 10 wins for Vallencano and 7 draws from a total of 31 meetings head to head in both teams in history.
-Rayo Vallecano has not won in their last four visits to the Estadio Municipal Jose Zorrilla.
-Rayo took 4 points from Valladolid in the Segunda Division last season.
-The last meeting between the two teams, Real Valladolid claimed victory over Rayo in a friendly before the final draw in the Segunda Division.
___
For me the results of this match are more to Rayo Vallecano, and I can predict the results are 0-2 wins for Rayo Vallecano.

-----
ESTABLISHMENT OF PLAYERS
Real Valladolid (4-4-2): Jordi Masip; Javi Moyano, Kiko Olivas, Nacho Martínez, Fernando Calero; Míchel, Keko, Rubén Alcaraz, Suarez; Oscar Plano, Unal. Coach: Sergio Gonzalez.
Rayo Vallecano (4-3-3): Dimitrievski; Advíncula, Jordi Amat, Ba, Velazquez; Imbula, Alex Moreno, Alvaro Garcia; anti Comesana, Raul de Tomas, Adri Embarba. Coach: Michel.