The title of this Writer's contest implies that there are more goals that could be in competition. It's a fallacy. There is only one goal that can be best goal in history. Only one goal that reveals nature of professional football and professional sports in general. Only one goal that screams…
It's okay to cheat as long as you don't get caught!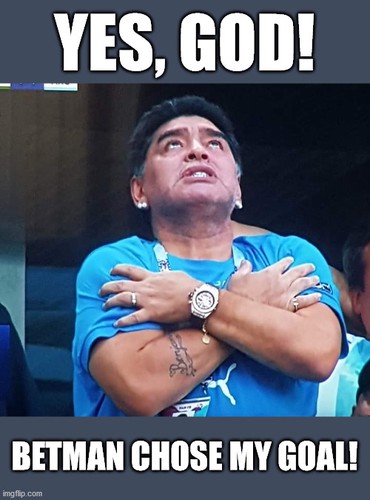 Yes, Diego, you coca snorting sod, it had to be your goal. It's such an icon of zeitgeist that evolved into monstrous contemporaneity… if I may say so. Here is your great accomplishment: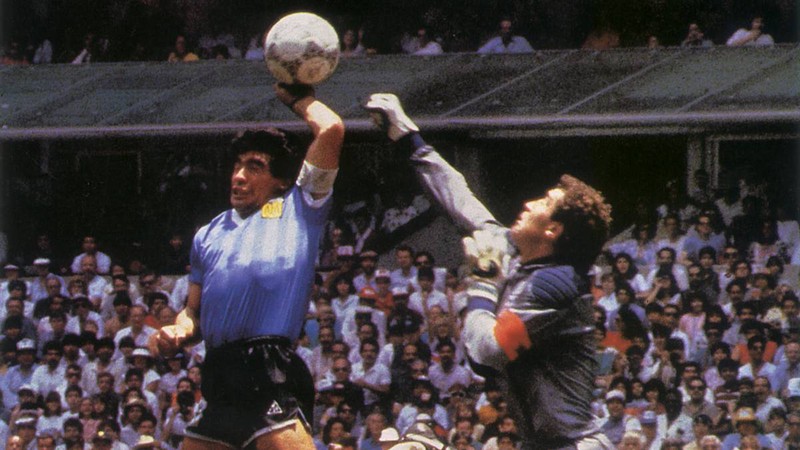 Let's remember how it all happened… It was a hot June 22nd 1986, at the Estadio Azteca in Mexico City. A crowd of 114,580 gathered fearing not of coronavirus. They paid very expensive seats to stand and try not to miss something extraordinary, something never seen before in the disjointed world of professional sports. And they did got a value for their fiat that day. Well, not in the first half. It was a dull game as usual, with some rare chances for Argentina, and one extremely rare chance for England. Viewers torture lasted until six minutes in the second half, and then it came as a thunderbolt – the long awaited event that makes history! Maradona cut inside from the left and played a diagonal low pass to the edge of the area… oh, hell, this is not 20th Century any more. See it for yourself!
Yes, that was a handball… I mean
Yes, that IS football!

…and all the 114,580 gathered saw it, all the security members saw it, all the boys that collect balls saw it, all the bench players saw it, both coaches saw it, almost all line arbiters saw it, the only man who didn't see it was some blind guy in black from Tunisia, called Ali Bin Nasser, who walked into the estadio by mistake and was given a whistle instead of white cane.
Just four minutes after showing his volleyball skills, Maradona used a consternation of England players to show his football skills as well. He took the ball from his teammate Héctor Enrique at his half, and then made a 68 meters slalom through the shocked defense of England made of Peter Beardsley, Peter Reid, Terry Butcher (twice turned), Terry Fenwick, then left goalkeeper Peter Shilton on his… excuse mu French, on his bottom, and slapped another goal. But who cares. The first one made history, because this second wouldn't happen without the first. Aside of this, a team that has a defense made up of only Peters and Terries, doesn't deserve any better.
So, should we feel sorry for the English squad? By all means not. Twenty years before this one, England won their only World Cup at Wembley with a [non-goal over West Germany, where the ball hit the underside of the crossbar, bounced down and… never crossed the line. Should we then feel sorry for the German squad? By all means not. Thirty years before this one, Germany made plans to make a stadium for 400,000 people where every Olympic Games until the end of the World should be held… We all know how well that one went.
But, Betman…
I know, I know, you will ask why Diego didn't do anything? Why, he did! He asked his teammates to come and hug him, because otherwise arbiter will not allow the goal! And they did. Later he stated:
"We, as Argentinians, didn't know what the military was up to. They told us that we were winning the war. But in reality, England was winning 20-0. It was tough. The hype made it seem liked we were going to play out another war. I knew it was my hand. It wasn't my plan but the action happened so fast that the linesman didn't see me putting my hand in. The referee looked at me and he said: 'Goal.' It was a nice feeling like some sort of symbolic revenge against the English."
You see? F*ck the sportsmanship when you can get a 'symbolic revenge' for the lost territory… and earn some fiat in the process. They didn't sign anywhere to be honest like Novak Đoković, right?
Another fine example of sportsmanship we could hear from former head coach of the Argentina national team, César Luis Menotti: "People said, 'Great! Better, much better, that the goal was so unjust, so cruel, because it hurt the English more.'"
So go ahead, tell Betman something about the nobility of the sports. Tell him about the honesty and character building. Go ahead with the long tirades of fair play. Talk how sports doesn't have anything with politics. Speak about friendship between the opponents… Then Betman will have for you a story of Eduardo Alves da Silva Dudu (Arsenal) and Martin Taylor (Birmingham City). But I warn you, it hurts even when you listen.