The new Giallorossi's purchase: "I won 19 titles at PSG, but then, the best players play there and if the competition is with people like Neymar there's little to do". Monchi: "Alisson? It will be seen at the end of the World Championship. For Florenzi the renewal is complicated, but will continue to work on it".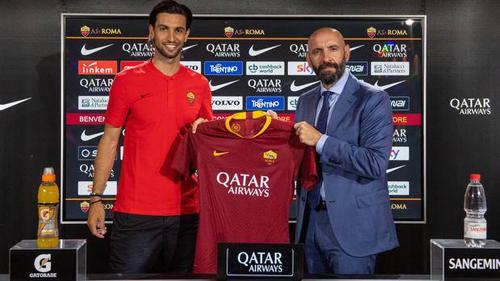 On the day Radja Nainggolan officially became an Inter player, Roma gave Javier Pastore the stage. Visits in the morning, signatures in the afternoon, conference with Monchi and meeting with the fans in the afternoon, the former PSG immediately tells his desire for revenge: "I'm here to show who I am, not the one you have seen in the last two years. At PSG I won 19 titles, but when you have to compete with people like Neymar there is little to do. But now I'm here and I'm happy about it. Next to him, there is Monchi: "He's one of the best quality players I've had in my career". AS Roma have paid him 24.7 million and he has chosen the number 27 on his jersey.
FLORENZI, ALISSON, AND OTHERS... - Inevitable, with the presence of the sports director, to take stock of the market. Monchi doesn't shrink from it: "Florenzi's renewal is a complicated one, we don't have the agreement yet but the idea is to do it. Nainggolan? We made a choice by accepting an offer and I put my face on it. I wish him luck". And again: "For Alisson, no offers have arrived so far, I'll wait for him here at the end of the World Championship, then we'll see. It goes without saying that everyone can be bought. Manolas? He likes to be a sports director, I've talked to him many times, I know he wants to stay. I read that Chelsea would like to pay the clause, I do not even know if they have the coach or seek anything else. For us, he and Pellegrini remain 100% at Roma. Now we will close for Bianda, then we will stop and evaluate". Monchi, however, wants to reiterate one thing: "We only sold Nainggolan, Skorupski, and Tumminello. I'm happy because I want to give Di Francesco the team ready as soon as possible. We're here on June 26 without the anxiety of FairPlay and I think that's also important. A year ago, in these times, we were in great difficulty. There are those who say that revolutionizing teams does not lead to victory. How do I respond? With my story.
The story of Pastore, on the other hand, tells of a player who is looking for revenge: "I wanted to go back to Italy, also for my wife who is from Palermo, and I wanted a great team like Roma. I'm very happy about my career, I won 19 titles in Paris, but I went away to return to feel important. The coach will decide the role, he would like to put me in the middle, and then we'll see. I certainly come here to try and win.
SANTON AND ZANIOLO - In addition to Pastore, Roma officialized purchases from Inter of Santon and Zaniolo, which amounted to 14 million (4.5 million for the youth and 9.5 million for the full-back).
Source:Gazzetta.it