EPL Matchday 27 continues with 1 more game going down today, which is includes 2 mouth-watering fixtures: 1st, placed Manchester City taking on 12th placed Wolverhampton Wanderers.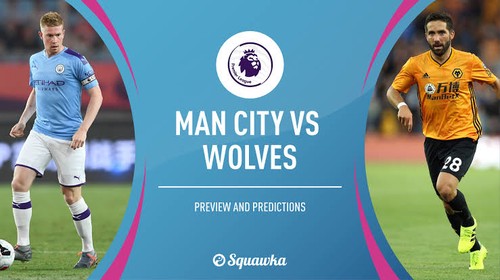 The other games are The matches between Crystal Palace vs Manchester United, Fulham vs Tottenham Hotspur, Burnley vs Leicester City, and Chelsea vs Liverpool, etc.
However, since I am only focusing on 1 game in this article, I will be going for the game involving the Champions in the making team, Manchester City, and Wolves.
let's move straight to the analysis of today.
Manchester City :
No doubt about it, you will agree with me that Man City has been the better side of these 2 teams since their last 20 matches in all competitions.
They have a whopping 20 wins in their last 20 games played across all competitions compared to Wolves who wins 3, draws 2, and lost 1 out of their last 6 games.
But in their last 6 meetings, Man City wins 2, Wolves wins 3 and they draw 1.
I bet the Wolves will be going into this game with some huge confidence, that they have been doing it in the past and they can still do it once again.
Another fact about this from the above stat is nothing other than Man City's extraordinary technique of play which has seen them top the table with 62 points, 12 points different from the second-placed Man United.
This will surely be added to their confidence going into this game.
Wolverhampton Wanderers :
I will be picking the first stat in favor of the Wolves from the above stated in favor of Man City.
The Wolves have been the better team in the last 6 meetings between these 2 sides as they've won 3, drawn 1, and lost just 2 of these encounters.
Having this tendency in mind, whilst looking forward to amounting to Man City's record of 20 games unbeaten, you can bet the Wolves will be going into this game with some huge objective attempted at avoiding a defeat.
The fact that the Wolves don't look ready to concede the league's top 4 race to any other rivals, Manchester City is another enormous condition to be considered as the 2020/2021 premier league champion.
With Manchester City getting a win over West Ham United on Saturday, extending their point gap over United to 12 points, the recent recognition that anything small of a win will be a huge blow to their title challenge.
CONCLUSION:
From the stats provided above, Man City looks valuable maintaining their record intact, but they could just get stunned by Espirito Santo Wolves' side.
A draw could also be the outcome of this game as both teams will have their record preserved if the game ends in a deadlock.
I will be extremely cheered to get your interpretation and conclusion on this great game.