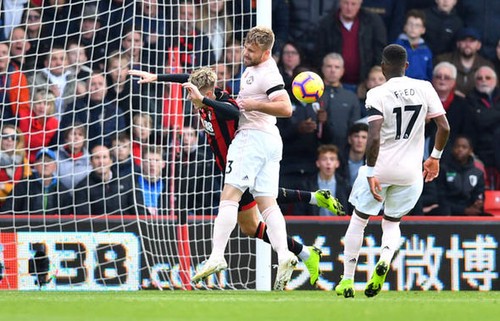 This game did not quite leave up to its billing as an exciting game,but there were lots of twists in the action filled match,from ill timed tackles to seamlessly weaved attacking displays and contentious penalty decisions,this match certainly had just about enough to keep you at the edge of your seat for its entire duration, manchester united came from behind yet again to win the match in the dying minutes,but was it a through reflection of the game? below are a few post-match talking points we generated from the contest at the vitality stadium
1. No lukaku,no problem :
It wasn't entirely surprising Romelu lukaku didn't make the trip to the vitality stadium,what was surprising however was that united at times in the match seemed to be missing the prowess and presence of the 25 year old, a hard irony considering his anonymity in games this season was the major reason he was dropped in the first place,there were some duels and foot race the Belgian would have won high up the pitch in contrast to Alexis Sanchez, but in the long run it proved no problem for united as Anthony martial and Marcus rashford scored the goals for them when it mattered most,though rashford missed a huge opportunity,he's movement's at times were decisive and was more involved than the largely anonymous Sanchez, a glimmer of hope in that regards
2. United's bad start
Manchester United's start to games this season at times have been bad,but this one was way above the others,Bournemouth had united pegged back in their own half and much of the play for the first 20 minutes was in that half,they were scrambling all over the place as Bournemouth flooded them with attack after attack and deservedly took the lead in the 10 minute following a sweet attacking move that ended up in the back of David de gea's net, and for the record there was pretty much nothing the Spaniard could do to stop it, a scrappy united clearance out of the area ultimately cost them as callum Wilson was on hand to poke home his 6th goal of the season,Bournemouth kept piling up the pressure and could have had a penalty when Luke shaw appeared to have prevented Ryan Fraser from getting anything on the ball following a cross,but the referee had a clear view and thought otherwise
3. Martial continues his imperious form
Anthony martial looked to be heading for the exit door in the summer transfer window after apparently falling out with Jose mourinho, but the frenchman more or less has saved the Portuguese job on more than one occasion this season, his equaliser against Bournemouth was his 5th goal in his last four premier league appearances and is starting to look like the player he was when united signed him from Monaco in 2015, let's hope he continues his form for the benefit of himself and his club.
4. United have got fighting spirit but they are just a reaction team
Reaction in games most at times doesn't win it, but action certainly does, united always look like they need a slap before they come for you,and one of these days they could be left red and dead by a merciless team, they've got the fighting spirit yes, but they can channel that energy into making the move first,and it will go a long way to help their season
5. Alexis Sanchez could just be a waste of 350,000, pounds
Some already think he is and the Chilean is not really doing anything to convince them otherwise, this match was yet another woeful performance from the former arsenal player and when your on a pay packet of 350,000 pounds the pressure would only increase,he has the talent and ability but his decision making is really poor and his fitness is zero,needs a lot of hardworking to do
In general this wasn't a bad game for both sides, a draw probably would have fair,but in truth winning this game was the option for united,they can't afford to drop any more points at a critical stage in the season,knowing fully well a crunch Manchester derby awaits them next weekend,it was high time luck finally shone in United's favour,for Bournemouth this was a proper contest for them and there are lots of positives boss Eddie howe could take from this one.