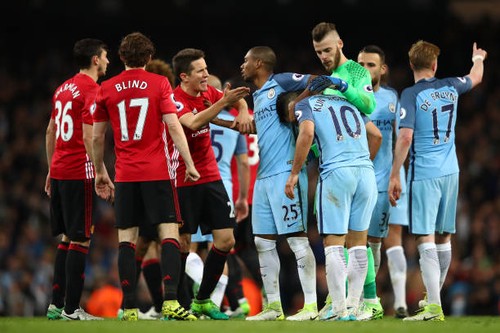 The biggest derby in England is about to take centre stage in the premeir league today, and the world will be looking on, and you just get that eerie feeling that the rest of the league would be rooting for manchester united to win, and truth is, it is a much needed favour, to avoid manchester city running away with the premeir league title
The Manchester derby is considered to be one of the biggest derbies on the planet,although it wasn't so not too long ago
A change in the football landscape of The premier league, has reignited a derby that had lost it's glamour prior to the 21st century,Manchester city have now become Manchester United's most feared rivals,wrestling that title from the good ol' Liverpool
The Manchester derby has swiftly intensified in recent years,and Manchester city drew the battle line,the day they stole the premier league title from right under United's noses,that was a signal the blue side of Manchester had arrived and they had come to stay
Manchester city have since won two other titles,leaving united with one solitary triumph since that day, so point is city have had the upper hand in Manchester in recent times and could only be looking to extend it and beating their city rivals at home today would be the best way to do that,but sadly enough it is a ground were they've not triumphed against them in the past three meetings, they were surprisingly beaten there in April which delayed their title triumph,so they would be out for revenge today at the etihad stadium
Manchester city are the premier league's in form team at the moment, with united enduring a slow start to their campaign
But form often counts for little or nothing in these type of games,where pride and honour are at stake.
Manchester city could be seen as slightly favourites in some quarters, but united in their own rights could command a similar tag and given how they've fared here in recent times, it's hard not to see why
In all of city's dominance last season, Manchester united,perhaps were the only team that approached them unfazed and gave the citizens arguably their toughest match of the season, when they beat them in April, united proved in both games last season, that it was possible to curtail city's attacking threat and although they've been romping to victories in recent weeks, you should still expect a similar game
City's strength no doubt lies,in their much feared attack and once it can be contained, that's 80% percent of the job done, united do have the ability to match them toe to toe in attack, but given this is a mourinho tutored team,you shouldn't expect anything of that sort, this will be one of those games where we could get to see a masterclass performance from the Portuguese manager in terms of tactics, but it remains to be seen what he could possibly have under his sleeves for this high profile encounter.
This is the 174th meeting between these two in england, united have been victorious on 72 occasions, 50 have ended in a draw, with city winning the other 50
So historically united have the upperhand and we all know history has become an important part of the game, this could prove to be city's biggest test of the season so far, and another check in progress for united, its derby day in Manchester, who ? Comes out top, will it be blue or red?
Whatever, the answer is we are sure to find out soon