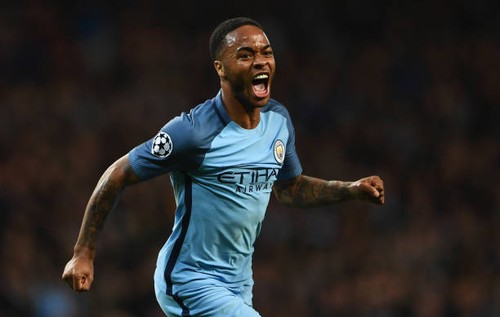 When Raheem sterling broke into the Liverpool first team,in 2013, much were said about the talented youngstar and his potential to be a leading player at the club for years to come, sterling was part of a dangerous Liverpool frontline that included Luis suarez and Daniel Sturridge and they were pivotal to Liverpool's surprising premier league title challenge that season
The Jamaican born English forward quickly became a fans favorite at anfield with his silky feet,speed,power and eye for goal,still then a teenager
With the sale of Luis Suarez to Barcelona and the incessant injuries to Daniel sturridge the following season, sterling was thrusted upfront as Liverpool's most reliable attacking player and he failed to deliver on most occasions provoking the wrath of Liverpool fans who had expected much better from him and then came a mouthwatering offer from Manchester city for the talented youngstar , who were looking to improve their home grown quota in the premier league and unfortunately for Liverpool fans, it was an offer he couldn't resist.
Sterling made the journey across Merseyside to begin a new and interesting chapter of his footballing career.
But just how interesting has Raheem sterling's career been,so far in Manchester?
So interesting it would make a good Netflix series, alright (pardon me), but the point basically is that Raheem Sterling's career at manchester city has been a very dramatic one
Liverpool fans didn't take kindly to his,departure and the pressure placed on him in his debut season was bigger than his shoulders,the media were constantly at him for his poor finishing in front of goal and ultimately it was a more negative transition than a positive one, his progress was somewhat restricted under the Spaniard, but the former Barcelona boss, knew he had a player with huge potentials and Raheem sterling finally came to the fore the following season.
The season that changed Raheem sterling's status
Pep guardiola seemed a pretty buoyant man,when he said Raheem sterling would score a lot of goals that season, in reaction to the forward's last minute winner against Bournemouth, regular sterling critics would have looked upon it as a mere wishful thinking and nothing more,but boy did he deliver?
Sterling proved his manager right as his critics wrong by going on to score 23 goals that season,12 better than he had ever managed,that was a testament to the fact that he was growing under pep, and it would be fair to say sterling scored Manchester city's most decisive goals last season,particularly in the first half of the season,where he was sustaining the clubs winning record with brilliant last minute winner's
It can be argued that sterling benefitted from a host of quality players around him,but sometimes you need to have the best player's around you to harness your potentials, which was more like sterling in his breakout season,where he played alongside,Suarez and sturridge
But even at that Raheem sterlings progress has marred by several off field incidents and his decision to draw the tattoo of a gun on his leg, prior to England's world cup campaign sparked the outrage of the English media and threatened to take the gloss out of the wonderful footballing season he had and it ultimately affected his performance for the three lions at the world cup, leading to further criticisms and clamours for him to be dropped and this was only further bolstered by his dismal record in terms of being productive for england,sterling ended the campaign with no goal and was guilty of spunning some clear cut chances but he still had the backing of manager Gareth southgate who singled out the forwards all round contribution as a point in that regard, southgate was particularly in sync with he's powerful runnings, quick feet and ability to create chances for others, which was why he was indispensable to the three lions coach and that is something his critics have refused to look at in his game,but that is something we have seen a lot from the 23 year old this season
Sterling bringing a new dimension to his game this season
Raheem sterling knows better than anyone that he constantly has to prove himself in england, and that is why he is not resting on his laurels from last season
Sterling currently heads man city's goalscoring chats with seven goals to his name and has assisted a further six,continuing from where he left off last season
If you have watched raheem sterling play this season, you will notice that his trying to be more of a creative player and constantly creates goalscoring chances for his teammate's as we saw in the rout of Southampton last Sunday where he had a hand in 5 of the six goals scored that day,one thing key to this development is the attacker's ability to run at defenders and manoeuvre something of quality for his teammates, sterling's finishing has also improved drastically and you can tell he is really working hard on that one
Its quite a shame, Raheem sterling constantly has to prove himself in England, but this could just be the single sole reason why he will go on to become a better player than even those on his side, would have ever imagined, he signed a new 300,000 euro a week contract this week, a testament to how far he has come, sterling is still only 23 and yet so much is expected of him, he could just be on course for a greater future