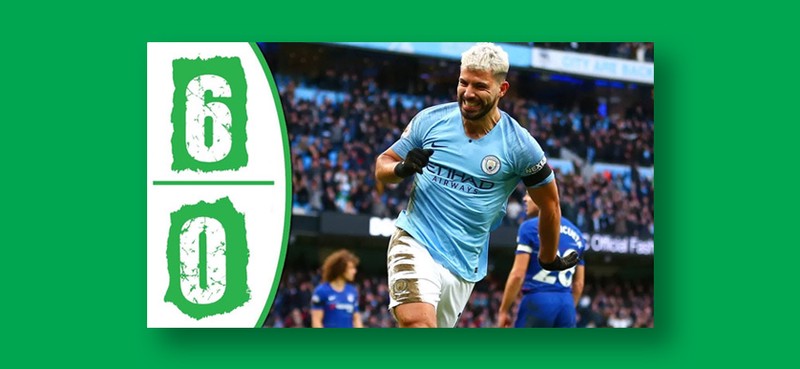 Demolition, obliteration, annihilation and more words to describe complete destruction was the outcome the Mancity vs Chelsea game. It was a very one-sided game a few hours ago at the Etihad Stadium as Mancity totally destroyed the blues at home.
A much-anticipated fixture prior to the game with lots of expectations. This was the game both teams needed to get the win to recover their various positions and keep pushing for their respective targets, but the final result at the Etihad means that Mancity still remain in the number 1 spot while Chelsea lose their 4th position to the rejuvenated Man United.
It was a totally one-sided game by all standard as Chelsea had no answer to Man City's gameplay and attacking prowess.
Man City without any question were in full confidence going into this game, as they knew they were capable of getting the win at home if they put in a good performance. However, they didn't really have much to do, as Chelsea didn't put up a good fight which made the whole game a breeze through for City.
Chelsea were coming from their emphatic 5 nil victory at home against Huddersfield at the weekend and going into this game with a bit of confidence that they could get the job done at the Etihad, but unfortunately, it was a total disaster for them and everything went completely wrong.

Demolition, Obliteration, Annihilation…
The atmosphere was great at the Etihad Stadium as fans were really excited for the game. Man City setup in a 4-3-3 formation, while Chelsea setup in their usual 4-3-3 formation.
The game began and both teams started in a very lively manner, Chelsea showed good signs in the first few minutes of the game, but after that, it was all Man City as there were able to get their first goal very early in the game following a freekick which was taken to catch the blues unawares, which allowed Sterling to fire City into the lead just inside 4 minutes of the game.
It didn't end there for Man City as they are known for scoring a good number of goals at home this season. Aguero added his name to the score sheet in the 13th minute with a beautiful strike outside the box to find the top right corner.
Aguero doubled his goal tally for the match and the 3rd goal for Mancity 6 minutes later. A defensive error around the Chelsea box allowed Aguero to slip the ball home for the third goal of the match and to keep up City's record of scoring over 2 goals at home this season.
Gundogan didn't want to be left out from the goal party as he added the fourth goal 6 minutes later yet again.
Aguero was keen to get his hat trick as he converted following a penalty in the 56th minute to increase the scoreline to 5-0 early in the second half to feed Mancity's hunger for goals.
Sterling added his second goal of the match and completed the demolition in the 80th minute to inflict Chelsea's first defeat of this magnitude since over 28 years.

Was Chelsea Wrong To Hire Sarri?
For me, this is a tough one as there are a lot of factors and questions to answer.
Is Sarri's tactics and idea of football impossible in the premier league?
Are these current Chelsea players good enough to effectively execute high intensity attacking football?
Are these set of players mentally weak?
Is Sarri not a flexible manager?
My Opinion
I don't think Chelsea was wrong to hire Sarri especially looking at what he did with Napoli, but there few other factors that could be the reason for Chelsea's situation at the moment.
Firstly, I think Sarri's tactics and idea of football is great but might to be effective in the premier league even though he needs time. The EPL is a fast-paced league and also a physically demanding league which means the things that worked for him in the Serie A, might to be the right way to go for the premier league. For instance, a player like Jorginho who isn't the physical player by nature and not the quickest in the regista role might have flourished in a much slower league like the Serie A but has most times found it difficult to replicate that Napoli performance especially in the big games, in a league were oppositions teams don't give players time and space on and off the ball.
Secondly, I think these current Chelsea players are simply not good enough to effectively execute high intensity attacking football. Most of the players in this group don't have their natural ability to effectively press and hassle opponents in the game as the likes of Dortmund and Liverpool. Playing high intensity attacking football constantly exposes the defense, but it the ability of the players to press and hassle help to reduce the amount of conceded chances.
Thirdly, I think these players are mentally weak by default except for very few players in the team. Most of the players don't have the fighting spirit in them and are not used to putting up a fight in tough situations. Chelsea during the days of Drogba and Lampard may not have technically gifted players like these ones, but they know how to get results when it matters and can show grit in very difficult situations.
Fourthly, from the look of things, I think Sarri is not really a flexible manager by default. He is a talented manager and has put lots of hopes on his tactics and idea of football which has failed him so many times this season. For me, I think he should assess his players and set up a system that best suit the players he has. It might not go perfectly in line with what he used to do at Napoli and doesn't mean he needs to be pragmatic, but it will help extract the abilities of the players he has to the fullest to help get results. He also needs to start making adjustments in-game especially when things are going wrong for the team.

And that is a wrap…
Do you think Chelsea was wrong to hire Sarri?
I would love to read your own opinions… Enjoy your day.