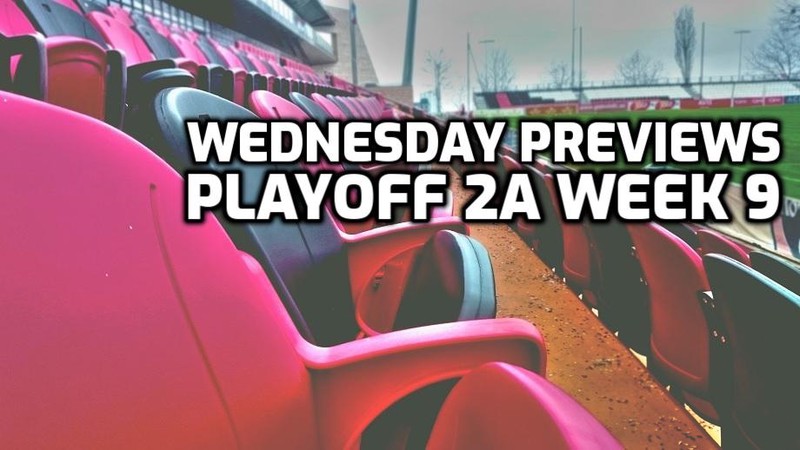 These are previews from the Belgian Jupiler League Playoffs with all the latest on team news, player form, injuries along with my personal bets and betting angles, ...

I got back home just as the 3 matches started yesterday, to my surprise there was no radio coverage of the matches (nobody really cares about playoff 2) so I had to do with switching between 3 matches on tv. Most of my focus was on the Zulte-Waregem match and I managed to get 2 bets in. Both were shared as usual on the SBC Discord. 3 more playoff 2 matches today, likely the same scenario where I will focus mostly on 1 match and continue to be very cautious betting wise.

---
Today all matches from week 2 in Playoff 2A will be played. This is the current standing in this group:


I don't have my newspaper available today so I will have to do with very basic views on the matches...
---
Eupen vs Beerschot
Basically, Beerschot is still missing a lot of A-Squad players and the team clearly is not played in on each other. They lost with 0-3 at home against Charleroi and now have a visit to Eupen. Eupen is just a regular team right now they took the draw against Stvv who have been out of form the last couple of matches. For some reason, the odds on Eupen went up a lot and I don't know why. My lean is on them at this price but I first need to get the final line-ups and understand why it moved. If it happens that they also have a couple of missing players I will likely take some on that. If there is no reason for the move I will wisely stay away.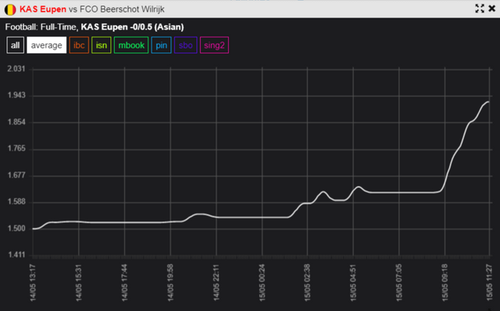 ---
Oostende vs Sint-Truiden
Both these teams are out of form. Sint-Truiden still plays for the playoff 2 group win but it's not really noticeable that they want to do what it takes for that. Oostende is a team I don't trust and am not consider betting on right now. They have been the kings of giving a lead away and that will be my main angle going into this one live.

---
Westerlo vs Charleroi
Charleroi is the team that is in a good flow now in their playoff 2 group, Westerlo still has a chance to win the group and they did request a European license so they might still fully go for it at home. Mostly Charleroi is high on my list of teams to back right now, I will have to wait for the final line-ups and early match picture to pull the trigger.

---
Late info might change my view on what is written in these previews. I will cover these matches live in our SBC Discord Channel. The Bookmakers that I am personally using and can highly recommend are Sportmarket Pro and Nitrogensports.


---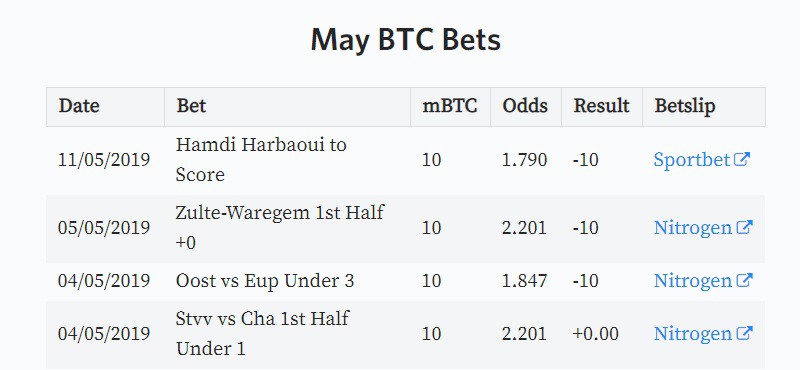 Previous Scorum Belgian Team BTC Bets Records
Apr 2019 | 3W-2L-0P | 50 mBTC Staked | +24.17 Profit | +48.34% ROI
Mar 2019 | 3W-3L-1P | 70 mBTC Staked | +04.12 Profit | +5.89% ROI
Feb 2019 | 5W-1L-0P | 60 mBTC Staked | +33.21 Profit | +55.35% ROI
Jan 2019 | 0W-2L-0P | 20 mBTC Staked | -20.00 Loss | -100% ROI
Dec 2018 | 1W-1L-1P | 30 mBTC Staked | -01.00 Loss | -3.33% ROI
Nov 2018 | 2W-3L-0P | 50 mBTC Staked | -11.60 Loss | -23.20% ROI
Oct 2018 | 2W-4L-0P | 60 mBTC Staked | -18.77 Loss | -31.28% ROI
Sep 2018 | 7W-0L-1P| 80 mBTC Staked | +82.32 Profit | +102.9% ROI
Aug 2019 | 5W-1L-2P | 80 mBTC Staked | +45.47 Profit | +56.84% ROI
Total | 28W-17L-5P | 0.500 BTC Staked | +0.13792 BTC Profit | +27.58% ROI