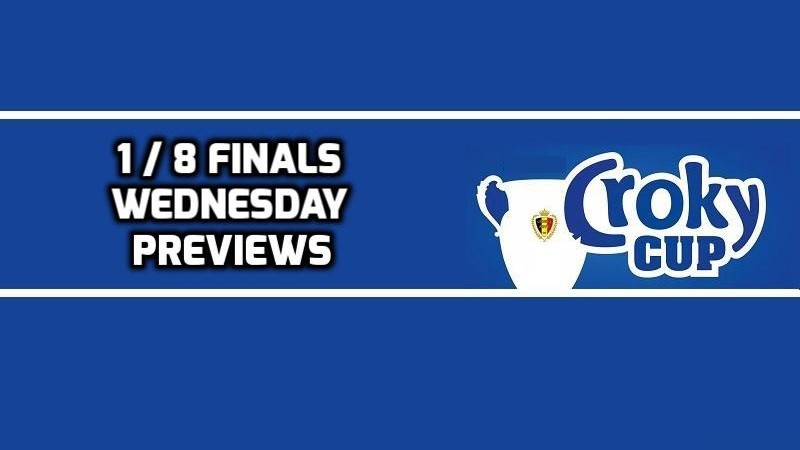 These posts contain previews on matches from the Belgian Cup Matches with some on my personal bets, live-betting angles, Team Form, Injuries and Team News.


Both favorites won yesterday in their cup match and I mostly kept a low profile live betting wise. Few teams actually tend to fully go for the cup and most have quite some rotation in their teams which often makes these matches quite tricky to estimate.

---
Moeskroen vs Oostende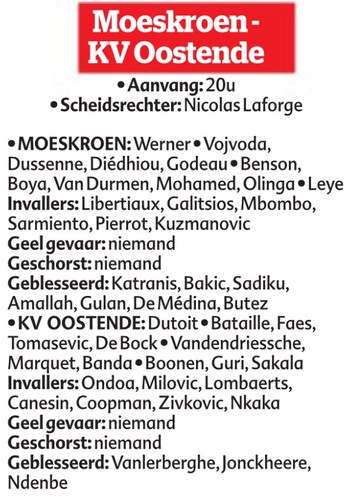 Oostende coach Verheyen already stated that the league match this weekend against Lokeren is 10x more important than this away cup encounter against Moeskroen. If anything, he really tends to put a huge importance on matches from teams who are direct competition for them in the league and he will field something close to a B-Squad this evening in the match against Moeskroen. The home team is still in the relegation zone but they have actually been playing good. From what it looks they also won't field their full A-squad tonight with some players injured. I still don't see them as a home underdog though and took a small bet on Moeskroen +0 @ 2.17

---
Mechelen vs Lokeren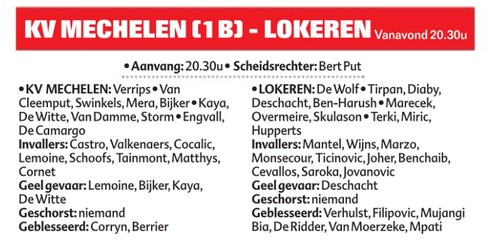 This is a match where for both teams the upcoming league match has priority. The cup is no priority for KV Mechelen and they look to play an open match tonight from what I'm reading in interviews. They are one of the best teams in the 2nd division and would not have a problem being competitive in the 1st League. Lokeren have been getting in a pattern of playing a solid first half to give it away late in the match. They have a hard time keeping a clean sheet and the solution from coach Sollied is to make sure his team scores multiple goals themselves each match. I took minor positions on the Over 2.5 @ 1.780 & Over 2.75 @ 1.980 in this match pre-game. The split bets are because limits are still quite small and I did not get in all I wanted on 1 of them.

---
Charleroi vs Genk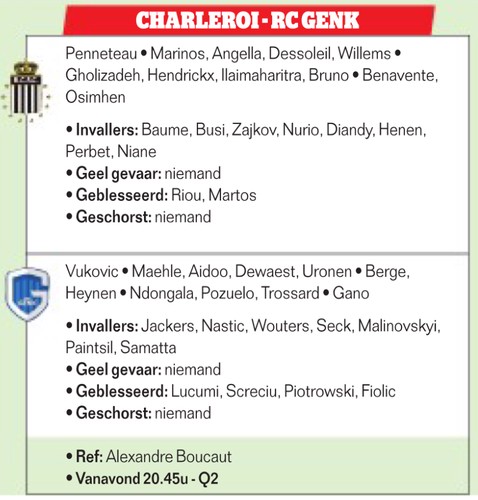 Charleroi are often a team of two halves sometimes playing good and other times playing poorly. Each year they state that the cup is one of their main priorities but they somehow always fail to make it very far. Genk coach is not shy of doing really heavy rotations and tonight might be one of those matches since he already complained about the commission that makes the calendar. Genk plays 4 matches in 9 days and it's mostly a question of how big the rotation will be tonight. If anything, they do have a very strong bench and should still be able to field a quality team. Charleroi is a much more high scoring team compared to last season mostly because they have a difficult time keeping clean sheets. I a pre-game positions in this match on Charleroi +0.5 @ 1.98. This is a bigger position with the anticipation of the final Genk Line-up and an eye to trade out of it with some potential profit before the match has Started. I also have a small position on Over 2.75 @ 1.91 & Over 3 @ 2.21

---
Deinze vs Eupen

Eupen Coach Makalele left 7 A-squad players home (Blondelle, Gnaka, Garcia, Toyokawa, Fall, Marreh & Molina.) Deinze are a team from the 1st amateur league.

---
Stvv vs Mandel United

There are currently no odds available (on the asian bookmakers) because Mandel are a team from the 2nd amateur league. Sint-Truiden seems to be taking this match serious though.

---
Late team news might change my views on these matches. I take all my pre-game and live bets at Sportmarket Pro which are a European Betting Broker that is aimed towards more serious Sports Bettors. They always offer the best odds on the market with high limits and do not restrict winning player. On some of the bets, I take a bit extra in BTC. All these bets are shared exactly as I take them right after having placed them on Nitrogensports which means the odds should be available to follow for those who want. For Live Betting coverage and bets, check out our Discord Server.

---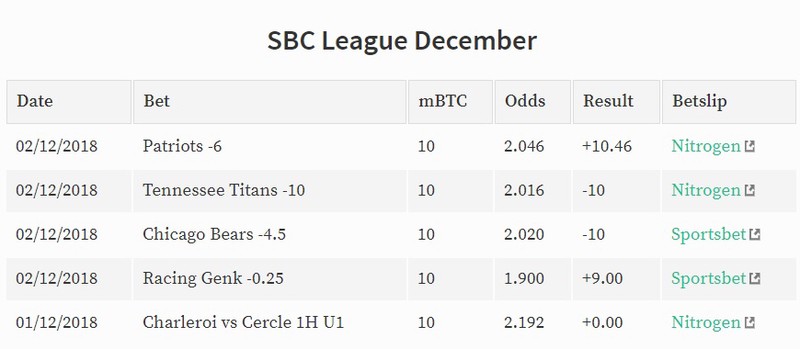 I have been using Nitrogensports as my main BTC bookmaker for over a year and have had a very good experience so far and also get a solid B+ rating on Sportbookreview. They offer market leading Pinnacle odds, have good limits. I place all the pre-game bets just before posting. affiliate link / normal link

Previous Scorum Bets Records
Nov 2018 | 07W-10L-0P | 170 mBTC Staked | -32.17 Profit | -18.92% ROI
Oct 2018 | 06W-09L-0P | 150 mBTC Staked | -28.29 Profit | -18.86% ROI
Sep 2018 | 13W-0L-1P | 140 mBTC Staked | +141.82 Profit | +101.3% ROI
Aug 2018 | 5W-1L-2P | 80 mBTC Staked | +45.47 Profit | +56.84% ROI
July 2018 | 7W-4L-0P | 110 mBTC Staked | +44.79 Profit | +40.71% ROI
Total | 38W-24L-3P | 0.650 BTC Staked | +0.17162 BTC Profit | +26.40% ROI
---
Correct Score Contest
Predict the correct score in the Charleroi vs Racing Genk match in the comments. A ~20% upvote will be split between the ones that got it right... Good luck !