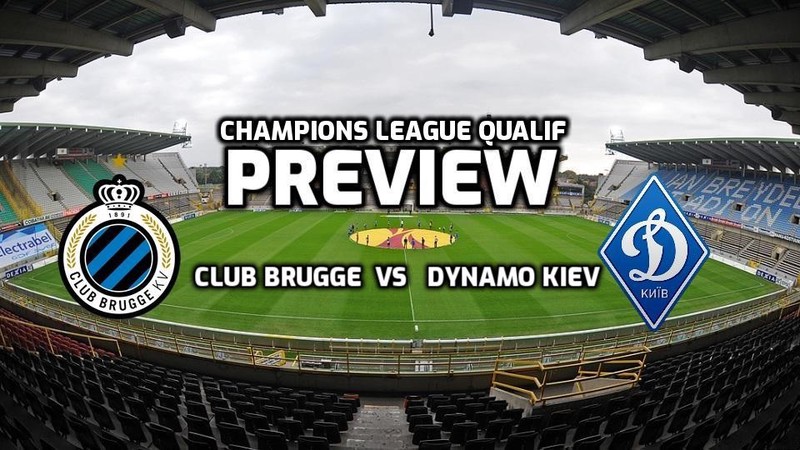 These posts contain previews on matches from Belgian Teams in Europe with some of my personal bets, Live-betting angles, team form, injuries along with general team news...

Club Brugge made a big transfer yesterday with Simon Mignolet pretty much making a statement that they want to reach the Champions League Group Stage. Today first qualifier match against Dynamo Kiev will be played at home. So time to look ahead...

---
Club Brugge vs Dynamo Kiev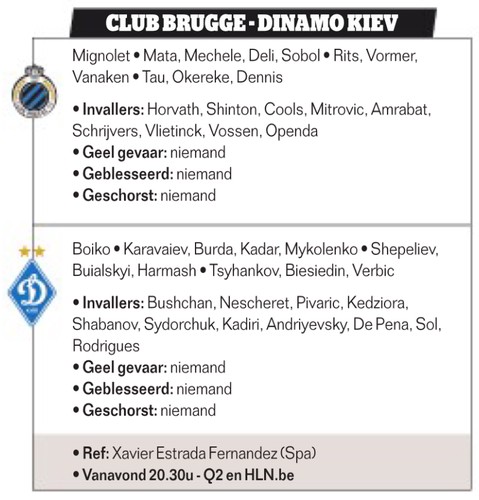 Club Brugge was not always 100% convincing during the preparation period but looked extremely strong in their first 2 matches of the season winning 1-3 vs Waasland and 6-0 against Stvv. It must be said that both these opponents are by no means a reference as they are weakened and not fully ready yet. From this angle, I see Club Brugge currently as "overhyped'. Mignolet will start in the goal and they have a full squad available. If then manage to qualify over the 2 legs against Kiev, they will play either the swiss Basel or the Austrian LASK Linz which both should give real options to make it. I have not seen Kiev play so I mostly have to go by the numbers to estimate how strong they are.

The Ukrainian team is ranked 23 on the UEFA Team coefficient while Club Brugge is in spot 37. The Ukraine league also is 2 matches into the season and Kiev took 6 point winning both away matches with 0-3 and 0-2. The total market value of Dynamo Kiev according to Tranfermarkt is ~100 Million € for Club Brugge it's 101 Million €. While Dynamo Kiev is a big name, it looks like they are actually on the way down lately. They are dominated by Shakthar Donetsk in their home competition. Only 1,25 million was invested in new players that were mostly transfer-free. The history of Belgian Teams playing against Kiev is 3W-5L over the years but they seem to be weaker compared to those times.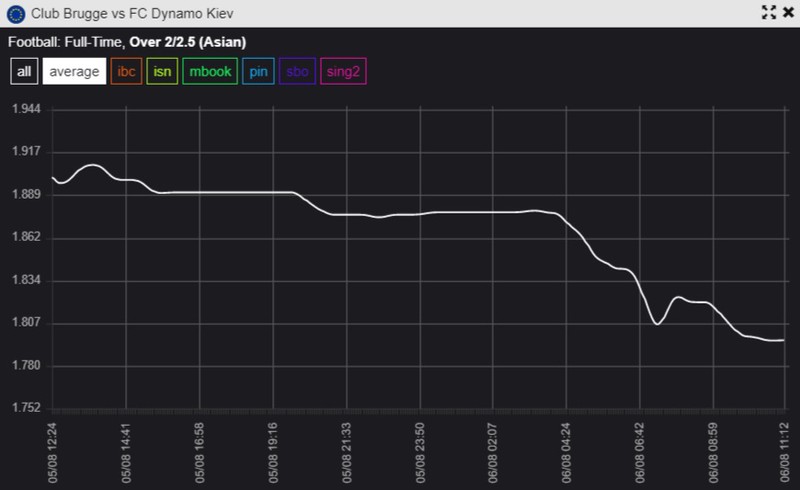 My eye betting wise was on the over 2.25 line at 1.9+ odds since coach clement is unlikely to play tactically and usually just want to play forward. The odds have dropped though so I will just wait and see how it goes. I will also be looking to bet Club Brugge, but they need to confirm first while Kiev needs to show overall weakness. Like most matches, it's hard to get in pre-game and lines seem to be set quite tight. All betting will be done Live...
---
Late info might change my view on what is written in these previews. I will cover these matches live in our SBC Discord Channel. The Bookmakers that I am personally using and currently am willing to recommend are Sportmarket Pro, Nitrogensports, Sportsbet.io. Bigger bets will te shared and tracked on Twitter and can also be followed directly on copytip. Odds can also be found on the 0% Fee Crypto Betting Exchange Betscorum Using my links when signing up helps to continue making these previews, Thanks!



Previous Scorum Belgian Team BTC Bets Record
July 2019 | 2W-0L-0P | 20 mBTC Staked | +18.00 Profit | +90.0% ROI
Jun 2019 | 0W-0L-0P | 00 mBTC Staked | +00.00 Profit | +00.00% ROI
May 2019 | 0W-5L-2P | 70 mBTC Staked | -50.00 Loss | -71.43% ROI
Apr 2019 | 3W-2L-0P | 50 mBTC Staked | +24.17 Profit | +48.34% ROI
Mar 2019 | 3W-3L-1P | 70 mBTC Staked | +04.12 Profit | +5.89% ROI
Feb 2019 | 5W-1L-0P | 60 mBTC Staked | +33.21 Profit | +55.35% ROI
Jan 2019 | 0W-2L-0P | 20 mBTC Staked | -20.00 Loss | -100% ROI
Dec 2018 | 1W-1L-1P | 30 mBTC Staked | -01.00 Loss | -3.33% ROI
Nov 2018 | 2W-3L-0P | 50 mBTC Staked | -11.60 Loss | -23.20% ROI
Oct 2018 | 2W-4L-0P | 60 mBTC Staked | -18.77 Loss | -31.28% ROI
Sep 2018 | 7W-0L-1P| 80 mBTC Staked | +82.32 Profit | +102.9% ROI
Aug 2018 | 5W-1L-2P | 80 mBTC Staked | +45.47 Profit | +56.84% ROI
Total | 30W-22L-7P | 0.590 BTC Staked | +0.10592 BTC Profit | +17.95% ROI
---
CORRECT SCORE CONTEST
Predict the correct score in the Club Brugge vs Dynamo Kiev match in the comments. A ~25% upvote will be split between the ones that got it right...