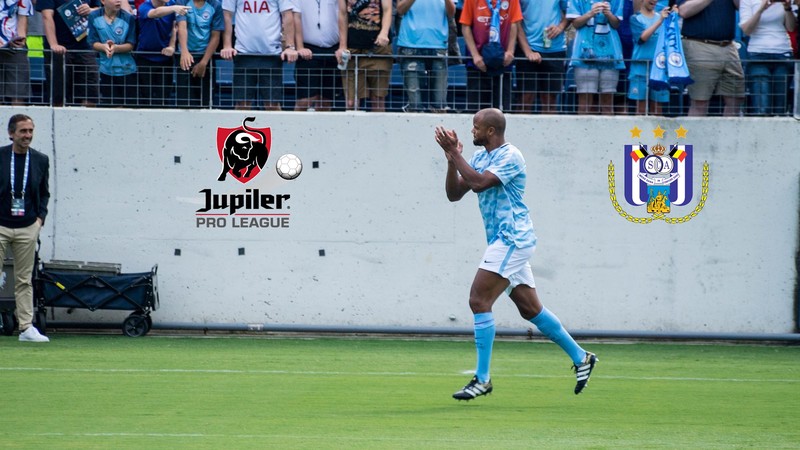 The news came last Friday that Vincent Kompany will leave Manchester City after being 10+ years with the club having won plenty of trophies and being a real leader to that team. The day after the more shocking news came that he will return to Anderlecht as Player/Coach. A lot has been said about it in the Belgian Media and this is what we know so far...

---
Anderlecht has been very much in a decline in the last couple of years reaching an all-time low now in the first full year of new president Marc Coucke. I guess he underestimated the job and mostly bought mediocre players from lower Belgian teams including many from his former team Oostende. Musona, Milic, Santini, Dimata, Makarenko, Vranjes, ... all failed terribly while the more expensive players they bought also did not bring what they were expected along with some former top talents. (Sanneh, Zulj, Bakkali, Bolasie,...) They mostly had to count on Trebel who was given a monster contract of 3 million on a yearly basis after which he got injured and played worse and some of the youngsters Verschaeren & Saelemaekers who showed a lot of promise.

A lack of leadership along with sub-par player quality levels made them finish 6th not getting a European ticket in the first time since 50+ years. The announcement of Kompany coming back in a way felt like a publicity stunt as it was timed just before the last match of the season to quiet down and please the fans.

Coucke has the vision to bring back the old Anderlecht with attractive offensive minded and dominant football. He and the manager Verschueren during an event where they met Kompany asked him his opinion and vision on what they could do to make that happen. Kompany who has a real heart for the team as he grew up here was charmed by this giving his opinion saying they could contact him anytime if they needed advice.

Sometime later they contacted him with their vision and an offer to become Coach/Player with the team. Kompany seemingly had a very similar vision for the team and surprisingly accepted.

---
How it Will Work...

Vincent Kompany was initially said to be the head coach of Anderlecht making all the decisions on the line-up and how to play while being in the team himself in some of the matches. His vision is to bring the position game of Guardiola to Anderlecht. He got convinced the last couple of years in Manchester City that football is all about positions where players need to be aware of where they stand in relation to their teammates. He said it's a slow process and took a while for Guardiola to get it right at Many City because players lacked the ambition and drive to learn it, unlike Bayern and Barcelona. (Just look at their first 8 months).

There have been a lot of questions raised about the player/coach combination and they already changed their narrative saying he will come as a player now (player-manager). Fact is that Kompany already went through the player base and it is known who will be able to stay and who won't.

If anything, it will really be interesting to see how it all plays out and if Kompany manages to pull it off. They will take their time and don't expect it to go easy the first year having set a goal of reaching the top 3 in the league. Without having to play Europa League they will have a lot more time to train and get used to a completely new system.

---
Preparations for the new season start June 17th and the first match will be on June 22 against RWDM. I plan on following all the off-season news from the Belgian Teams and make regular reposts on them during the summer...

HERE'S TO YOU VINCENT KOMPANY | 10 YEARS AT CITY