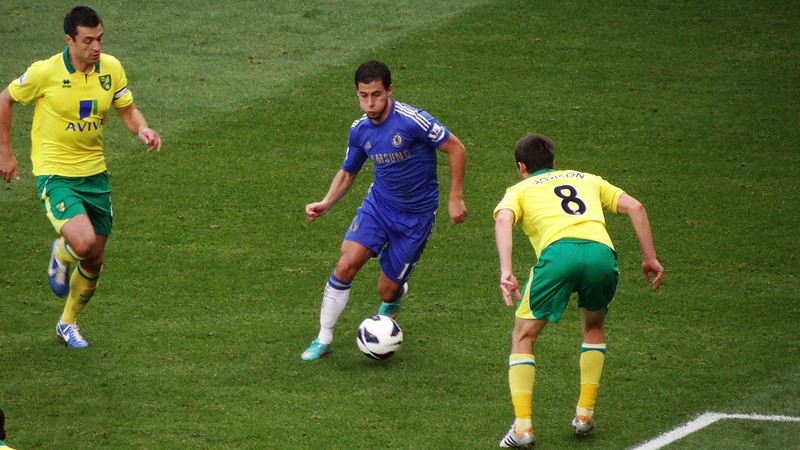 A 21 year old was making waves in France in the year 2011. His name was on the lips of every scout, coach or football enthusiast. His name was Eden Hazard. The biggest clubs in Europe were chasing his signature including Manchester United and Real Madrid. But, Hazard had decided upon a club. He announced that he was going to join European Champions - Chelsea via Twitter. Fast forward six years and Hazard had become one of the greatest players in Chelsea's history. He won it all with Chelsea except - the Champion's League.
He was praised by Zinedine Zidane who also happened to be his idol growing up. In the summer of 2019, Hazard saw his life long dream of playing for Real Madrid come true. But, he hasn't exactly fit right in at Madrid. His first season at Madrid has been plagued with injuries. In this post, I will try to figure out and explain reasons behind Hazard's disastrous debut season at Madrid.
After Messi and Ronaldo, Hazard is my favourite player. I love watching him because he is a player who creates things and it is often spectacular to see him play.
Do I see him going to Real Madrid? Ask someone else. I love the player and that's all.
-Zinedine Zidane, 2015
Injuries.
Hazard has only played 10 games this in La Liga this season. He played 37 out of 38 games last season at Chelsea. Even though defenders brought him down on a regular basis, Hazard has never in his career been injury prone. This season Hazard has faced many injuries including a hamstring injury and a hairline crack in the foot. Injuries have contributed largely to his struggle at Madrid.
Tactical Change.
Hazard played either as a Left Winger or a False Nine (occasionally) at Chelsea. Chelsea under Conte played a three-man defence. Which meant that the wingbacks provided the width while Hazard played as an inside forward on the left. At Chelsea, he had the freedom of roaming between the defence and midfield of the opposition, receive the ball and do what he does best - carry the ball forward, try to get the ball to his striker or cut in and have a go at the goal. Things have changed at Madrid. He has to play deeper at Madrid. Which means that his output has reduced drastically. It really seemed that Hazard would thrive playing alongside Karim Benzema, but that hasn't happened so far this season.
His Struggle to gain Self-Confidence.
Hazard has a reputation for being a very easy going and confident person (The guy went for a Paneka penalty in the league cup final and scored). Hazard made headlines after he showed up at Madrid a little overweight. He has been in the news very frequently. The Spanish media has always criticised him on a regular basis. He is in a new country, playing for the club he always dreamed of playing for, under the coach who was his footballing idol. Real Madrid is one of the biggest clubs in the world and playing for them can be nerve-racking. Many of football's biggest talents failed to make an impression at Santiago Bernabeu. But, hopefully Hazard won't be one of them.
The pandemic has given Hazard the chance to work on his fitness. He has impressed his teammates and boss Zinedine Zidane after showing up to training in better shape than ever. Many players have struggled at Madrid before finding their feet. Modric the Ballon D'or winner struggled at first. Casemiro also didn't have the best start to his life at Madrid. But, the two are an integral part of the squad and the finest footballers in the world.
It is never too late for a player like Hazard to prove his critics wrong. Player's of his calibre are very rare. Once he gains the momentum, it'll be very hard to stop him from being a key figure at Madrid.