I wrote an Introduction To Fantasy Premier League two days ago. After the rules and basic understanding of the game comes learning to build a good squad that fetches you points regularly. I have tried to break down everything from budget allocation to chip strategies here. I hope in this guide I can help you all become good FPL managers.
Fantasy Premier League (FPL) can be intimidating at first but once you get the hang of it, good decision making, knowledge of the game and a bit of luck is all it takes to finish at a respectable rank. In this guide I will equip you with the knowledge part of this recipe and the rest is up to you. If you are a FPL beginner, looking to smoke your pals in the mini-leagues or a regular FPL manager looking for tips to boost your rank, then this guide is all you need.

---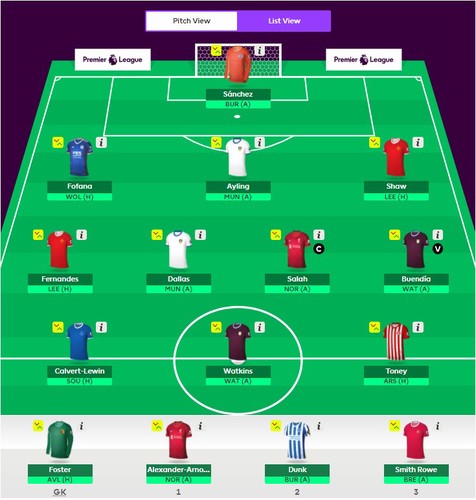 FPL Terminology.
Before we get started with budget allocation, chip strategies and more of the fun stuff, let's get you acquainted with some FPL terms that you will come across at some point.
DGW: DGW stands for double game-week. A team plays twice in a Double game-week which means DOUBLE THE POINTS!
BGW: BGW stands for blank game-week. A game-week in which all teams don't play is called a blank game week.
TC: TC stands for triple captain which is a chip in FPL.
Hit: When you take a -4 for the additional transfer.
Blank: When a player fails to score a goal, assist or keep a clean sheet .
Returns: When a player gives more than 2 points.
Budget Enabler: Players that are in the team to free up money for other players.
Budget Pick: A player that costs less and gives decent returns for the price.
Budget Premium Picks: Players that are more expensive than Budget players.
Upper Premium Picks: Players that are less expensive than Premium players
Premium Picks: The most expensive players in the game.
Ownership: The percentage of managers that own a certain player.
Differential: A player owned by less than 10% of the FPL managers in the game.
---
Budget Allocation.
In order to win points consistently you need good players but the key to gaining points at FPL is to have a balanced team that delivers points consistently.
Goalkeepers (9.0m-10.0m)
What should you look for in a goalkeeper?
While selecting goalkeepers in FPL, you must judge the goalkeepers on the basis of two aspects of his game. Firstly, the amount of saves he makes and secondly, the amount of clean sheets his team keeps. Always remember, premium goalkeepers are likely to keep more clean sheets while Budget keepers are likely to accumulate more save points (you get a point for every three saves your goalkeeper makes) and some occasional bonus points.
Your options are:
1x Premium Goalkeeper (5.5m-6.0m) and 1x Budget Enabler Goalkeeper (4.0m)
2x Budget Goalkeepers (4.5m-5.0m)
Note: Do not spend more than 10m on goalkeepers.
Defenders (24.0m-26.0m)
Unlike goalkeepers, defenders do not accumulate points for the tackles they make. So while selecting defenders you must keep two aspects of their game in mind. Firstly, clean sheets (DUH!). Secondly, goal threat or assist potential either from open play or from set-pieces. Give higher priority to fullbacks while selecting defenders as they carry a bigger goal threat and assist potential. If you are getting in center-backs make sure they are consistently keeping clean sheets and get goals from set pieces. Also be on the lookout for defenders who are registered as defenders but play higher up the pitch. For example, Stuart Dallas (2020-21) and John Lundstram (2019-20).
Your options are:
2x Premium defenders (5.5m-7.5m) and 3x Budget defenders (4.0m-4.5m)
1x Premium defender (5.5m-7.5m), 2x Budget Premium (5.0m-5.5m) defenders and 2x Budget (4.5m-5.0m) or Budget Enabler(4.0m) defenders
Note: Do not go above the budget while picking defenders. Most FPL beginners start by picking defenders first and go overboard with it and compensate for it by picking more affordable midfielders (who fetch you more points than any other positions). Remember that two of your defenders are gonna be on the bench for most weeks.
Midfielders (35m-40m)
Midfielders are the most important part of any FPL team. Midfielders in FPL are equivalent to a Queen in a game of chess. They can make all the difference. While selecting midfielders look out for one thing only - Goal contributions. The primary way of scoring points for a midfielder in FPL is through goals and assists. So make sure to get in midfielders from offensive teams. Doesn't harm to get in players that are on set-pieces too. Have wingers and attacking midfielders on a higher priority. Be on the lookout for players registered as midfielders but play as attackers. For example, The FPL Lord aka Mohamed Salah.
Your options are:
2x Premium (9.0m+) midfielders, 2x Budget Premium (5.5m-7.0m) or Upper Premium (7.5m-9.0m) midfielders and 1x Budget (4.5m-5.5m) midfielders.
3x Premium (9.0m+) midfielders, 1x Budget Premium (5.5m-7.0m) midfielder and 1x Budget (4.5m-5.5m) midfielder. (Only do this when you don't have an expensive attacker lineup)
Note: Do not get in defensive midfielders at any cost. Also ensure to have at least one budget midfielder as you will be benching one midfielder most of the time.
Forwards (23.0m-28.0m)
The only way of getting points for attackers is through goal contributions and bonus points. Every forward you select should either play for an offensive team which racks goals at a prolific rate or should be someone who is clinical and can outperform his xG or expected goals. An attacker on penalty duty is definitely a must have especially in the first few weeks as we've seen more penalties conceded in the first few weeks of the PL as the defenders are still trying to attain match fitness after a break.
Your options are:
2x Premium forwards (10.0m+) and 1x Budget (4.5m-6.5m) forwards
1x Premium (10.0m+) forward, 2x Budget Premium (7.0m-9.0m) forwards
1x Premium (10.0m+) forward, 1x Budget Premium (7.0m-9.0m) forward and 1x Budget (4.5m-6.5m) forward
Note: Avoid attackers from defensive teams that don't register many shots in a game.
---
Chip Strategy.
Do not use your chips as soon as the season begins to gain places. Always remember that FPL is a marathon and not a sprint.
Use the triple captain and the bench boost chips during double game-weeks.
Use the Free Hit chip during a blank game-week.
There is no ideal time to play the wildcard chip. It varies from team to team. Although playing the second wildcard just before a Double game-week or the international breaks can be beneficial.
---
Hello Scorum! Hope everyone is doing fine. If you liked the post, I might have something interesting for you people.
So it's been more than year since the spread of corona virus and we've been stuck at our homes. With all my school work done, suddenly I have found myself with a lot more time on my hands. I have decided to write a newsletter about the one thing I have a love and hate relationship with, Fantasy Premier League.
If you liked the above post please do consider subscribing to FPL Unplugged.

League code: c7uuj6
Also do consider joining our Discord server!
---