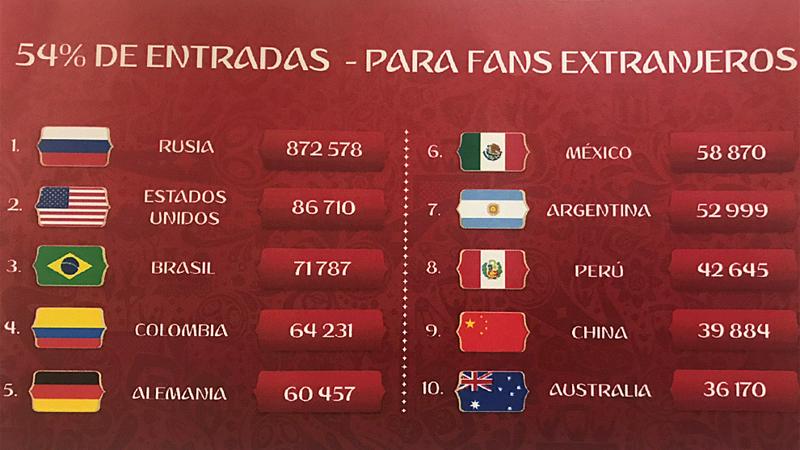 According to the announcement made last Friday by the director general of the Local Organising Committee Alexei Sorokin, Spanish fans have already bought 12 000 tickets for the World Cup in Russia.
Sorokin presented the championship in the Russian embassy in Madrid: "This number can still increase, and nobody can dispute that the Spanish national team is extremely popular, not only among Spaniards".
The organizers have confirmed that 85% of the tickets were already sold, and they were hugely surprised by the great number of Latin American fans. "It's not easy to say where the tickets were sold, however we were surprised by the number of Latins and US fans (who lead the sales after Russia) although their national team hasn't qualified to the final tournament".
Russia heads the list of purchased tickets (872 578 tickets) followed by USA (86 710 tickets), Brazil (71 787 tickets) and Colombia (64 231 tickets).
The head of the WC organising committee said he felt extremely happy to present the World Cup in Madrid and in Spain as a whole because "this is a country that knows how to be world champion, country that carried out many large competitions, homeland of many modern and former stars".
"Furia Roja is one of the most expected national teams that is obviously considered one of the main favorites", stated Alexei during the joint presentation with the Russian ambassador Yuri Korchagin, Sports State Secretary José Ramón Lete and sports director of the Spanish Football Federation Fernando Hierro.
In his brief speech, José Ramón Lete pointed that "the Spanish national team is extremely motivated for this World Cup despite the defeat in the last championship. Spanish teams goes to Russia without defeats since the Euro-2016. In Krasnodar, we will feel like at home. Possibly, we can meet with Russia in ⅛, however we hope we won't".
The Sports State Secretary said that football may serve as a connecting link able to strengthen the international relations: "Sports diplomacy is as valuable as the general diplomacy. Football is aimed to connect people. As Nelson Mandela said, sports has the power to transform the world".
Source: La Marca