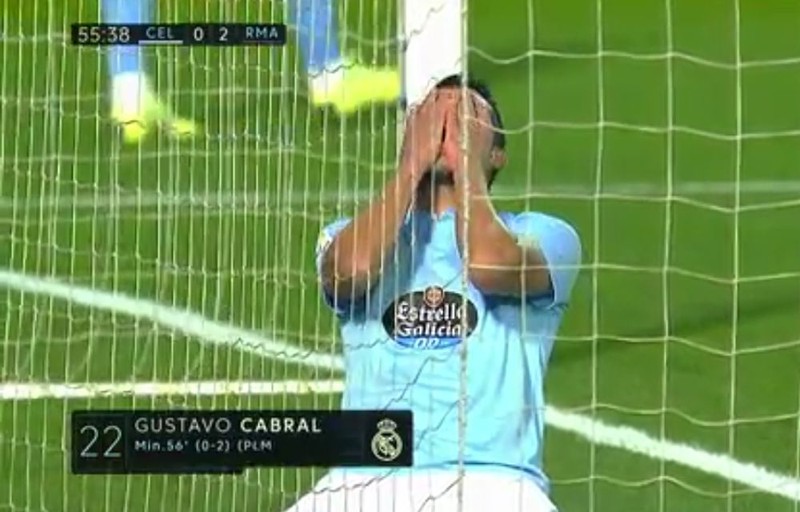 I want to share with all of you this funny but dramatic story as an entry to the great Happy Moan-day contest hosted by our friend @pete.

When Real Madrid dismissed Lopetegui wanted to make a turn in every way and really as luck has done, the bad luck that accompanied the team for more than a month has been mysteriously transferred to their rivals.
The Real disputed the past weekend a new party of the League, in front the Celta de Vigo, a team that aspires to the high positions of the classification. The misfortune, this time was for one of his defenses, Cabral introduced the ball into his own goal after a tremendous carom.
If you have not been able to see the video of the own goal, here you have it.

We were in the 55th minute of the game, Celta was trying to tie the game, the "white" team looked very pressured. But a genius of Benzema and the bad luck of truncated the Galician effort.

the Celta did not surrender desperately began to attack from all sides and in one of those plays came the 1-2, a goal by Hugo Mallo after a great collective play ended at the bottom of the meshes of the goal of Courtois, "Celestial" goal of getting something positive in the game was closer. nevertheless the black night of Cabral would have a fatal outcome, a lack in the field of Real Madrid that has no site resulted in the red card. When Celta was trying to tie, the referee left his team with one less player. The match ended with a 2-4 and the victory for the team "merengue". It is clear that Cabral will want to forget his unfortunate performance.

Anybody has a bad day!!
Much encouragement to Cabral, He is having a successful career in one of the strongest leagues in Europe, some days everything goes wrong, just turn the page and keep the concentration in each game to be a better player.

I hope you like it and have fun with my point of view about the game and I want to wish good luck to the rest of the participants in this fun contest.