What a great way to start the knock-out phase of the UEFA Champions League. On one side we had Manchester United that did not lose a single of their last 12 games under Solskjaer while PSG has been trying unsuccessfully to have a big impact of the UCL in the past years. Even without two of their stars, Neymar and Cavani, this was the fixture that everyone was waiting for passionately.
The early minutes proved to be very promising. Two sides that were playing with a very high pressing intensity on the opposition. However, these did not result in clear-cut chances in the opening minutes as many mistakes were made, space was closed down effectively or the final pass was missing. Matic was a very strong pillar in the defense of Manchester United in the first half closing down spaces for Draxler and Mbappé. United tried to create chances with Rashford and Ringard switching positions on numerous occasions and Pogba trying to look for infiltrations inside in the box. Martial had a poor first half and was substituted due to an injury. In general, both teams were playing too slowly to cause serious trouble to the opposition in the first half. On the PSG's side, Veratti was struggling after his first minutes after an injury and Di Maria was not at the height of the occasion. Tuchel clearly expressed his discontent on the sideline because of the poor but not bad first half of his team, as Manchester United was not able to create dangerous chances for their strikers. On the other side, PSG was only able to threaten United's defense with their counter-attacks through Mbappé and Draxler.
Again, the second half started with high pressure from both sides. Again, not resulting in clear-cut chances. However, in the 53rd minute, a counter-attack created a corner for PSG which was shot in from close range by Kimbempe, who maybe should have been sent off earlier for a second yellow card.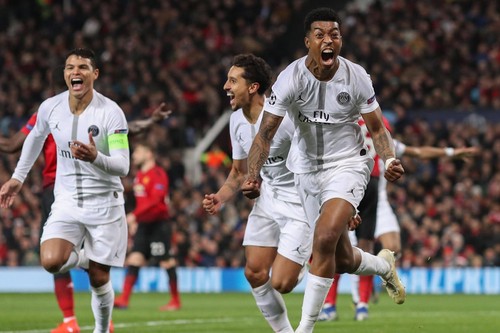 A high amount of fouls kept on dominating the game as well as many passing and control errors. After that first goal Manchester United stepped up their pressure on an even higher level, leading to even more space in behind their defenders which perfectly played into the hands of Mbappe, without any successful finish. Tuchel was still frustrated by his side's possession that did not do enough to threaten Manchester United. However, PSG has many more options to score goals. With Kylian Mbappe and Bernat upfront PSG was able to able score their second of the night after a quick but quality counterattack initiated by again Kimpembe. After this second goal PSG did not back down and could have scored a third goal after a wonderful through ball from Di Maria to Mbappe, De Gea successfully blocked the chip of the youngster. The game carried on with little to no chances for Manchester United where you clearly felt that they were not used to play football at this level anymore. Only a second yellow card for Pogba is a notable remark on the end of the second half, which will further decrease the chances for the second leg of this fixture for Man Utd.
It is clear that Manchester United did lack the intensity to play at this stage. On the other hand, PSG is an extremely strong team that can harm any team in Europe even without Neymar and Cavani. They have players that know what it's like to play at this level, they have the experience that some United players do not have and this is their main focus of the season.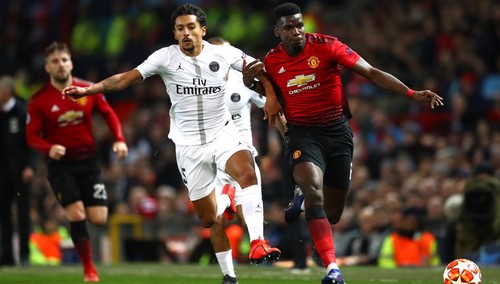 Along with injuries for Martial and Lingard, Manchester United never seemed to threaten a strong PSG side which left little to no chances to United. Manchester United is facing an extremely difficult second leg without their man of the moment Pogba, which was remarkably man-marked by Marquinhos who played a magnificent defensive game today. Along with the potential injuries for Lingard and Martial, securing a top-4 spot in the Premier League will be their biggest concern in the upcoming weeks.
Let me know what you thought of the game.