With this player I want to start the first of many episodes dedicated to players who have made the story of one of the most beautiful games in the world. Welcome to Football genius!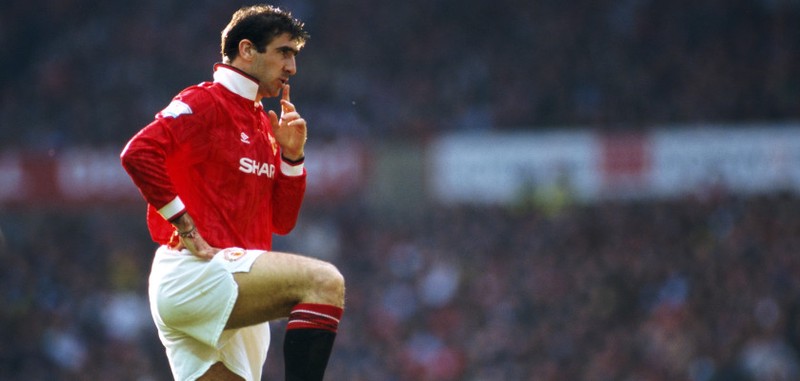 I want to inaugurate this blog immediately with a little bit of pepper, talking about one of the most controversial players in the football world, a bad guy with fairy foots, The King or King Eric was and still is the idol of the United fans, after he left they had hard time finding someone who could replace him, so much so that in 2001 he was elected as a player of the century of Manchester United, in a poll among fans of "Inside United magazine". Eric Daniel Pierre Cantona born in Marseille on May 24, 1966, is mostly known for having played in Red Devils team, even if just for five seasons, from 1992 to 1997, intense seasons where he managed to give immense joy to the their own fans with his acrobatics and winning 4 Premier League and 2 FA Cups.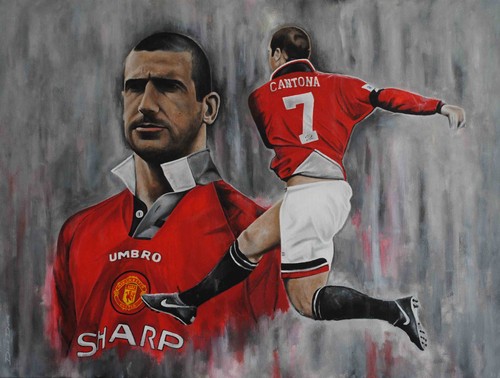 High temper, a player so good with the ball as hot in the way to handle some situations, such as the day of the unfortunate episode that has compromised in part is fame and career, January 1995 at the Selhurst Park stadium, Crystal Palace home, falling to the provocations of an opposing fan who was in the first row of the stadium, Eric had the unfortunate idea of ​​hit him in the face with a kung-fu style kick, then he was finally suspended by his national team and he was given a disqualification of nine months in the Premier League. Both were sentenced to serve a jail sentence: Eric was sentenced at two weeks in jail, a sentence that was reduced to 120 hours of community service, while the Eagles fan, Matthew Simmons was sentenced to seven days in jail for insulting him, but actually went out of prison twenty-four hours after the sentence. Shortly after this episode, during a press conference, Cantona pronounced a famous remark, addressed to the mass media who criticized him harshly for what had happened:
When the seagulls follow the trawler, it's because they think sardines will be thrown in the sea.
This episode of violence was not the first, in the past he had other shots of anger, like the one happened in 1987, when at 21, punched in the face of a teammate and he was disqualified for three months. A total of 17 months of disqualification collected during his career, a record not exactly enviable.
At the beginning of his career, when he was a member of the Sport Olympique Caillolais, he played the role of goalkeeper, the only one who played over the striker, in fact during an interview he said:
For me there were only two possibilities: goalkeeper or striker. I was aiming only for one thing: to be the team savior.
He covered three jerseys throughout a sixteen year football career, number 10, number 12 and, when the Premier League, in 1993-94, introduced the custom t-shirts he took the number 7. Number that lately chose players of the caliber of David Beckham and Cristiano Ronaldo.
In addition to Manchester United, where he finished his career in 1997, he played in Auxerre, Martigues, Olympique Marseille, Bordeaux, Montpellier, Nimes and Leeds Utd teams.
National Team.
The relationship between Cantona and France was a continuous up & down, made its debut in the national team in 1987, but already the following year was shelved by the coach of that time Henri Michel, who was exonerated for the failure to qualify for the Italy '90 World Cup. Then arrived to lead the national Platini, who was a great admirer of Eric, he was that one to suggest him to go play in England. Platini left the national team at the end of the '92 on Sweden European football championship, in which they did not even manage to pass the qualification round. Paltini was replaced by Houllier, who failed to qualify for the '94 USA World Cup, so they change again technician, this time is Jacquet, who made Cantona captain in view of the '96 England European football championship, but considering the disqualification in '95, Éric never played again in his national team. After his exclusion to the 2004 European football championship in Portugal and the 2006 World Cup in Germany, he declared that he would support the England national team, provoking not a just few press discussions in his homeland.
In 2011 he was hired as technical director of the New York Cosmos, but was fired three years later following a fight with a photographer in London.
------------------ ....................... --------- --------- ....................... ------------------ ....................... -----------------
In the following video, all his 82 goals made by him with the Red Devils' jersey during his185 official games, in his career he has made 176 goals in total:
Curiosities:
As a child he lived in a cave, which seems to have been a German lookout point during World War II. The father is of Sardinian origin, of Ozieri, the mother instead she's of Catalan origin, the grandparents escape from Martorell during the Spanish Civil War, later they go to live in Marseilles.
In 1995 he began his career as a film actor, starred in movies such as "Elizabeth" and he has acted so far in more than 30 films, including a movie of which he was a co-producer, directed by Ken Loach, entitled "Looking for Eric", where he plays the part of the lead actor's imaginary friend.
In addition to his career as an actor he dedicated himself as a hobby to art, specifically to painting, a passion inherited from his father, which was a nurse by profession.
------------------ ....................... --------- --------- ....................... ------------------ ....................... -----------------
In conclusion I leave you with a very famous commercial video of '96, which sees him acting with many football champions, collar pulled up and as I would say Éric I'll tell you too... Au révoir!