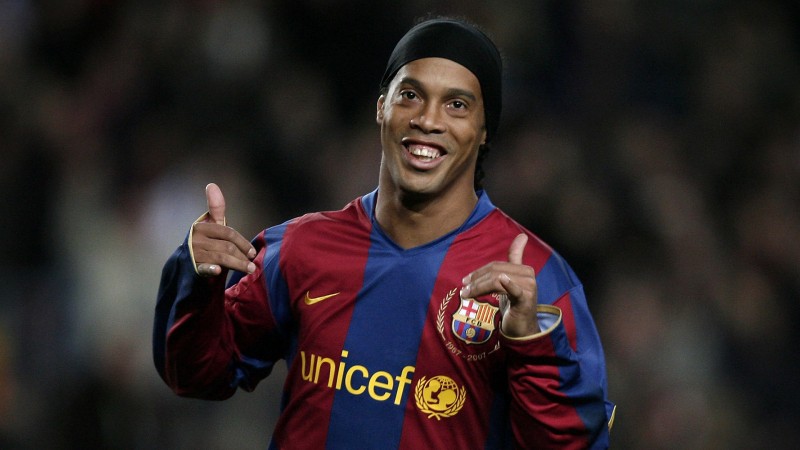 A true ball wizard, he managed to daze everyone with his unique prestige games. Smile printed in his face and feet made of gold, the impossible for him was a children joke, turned football in an absolute spectacle, when he was in the field was like to attend a circus show.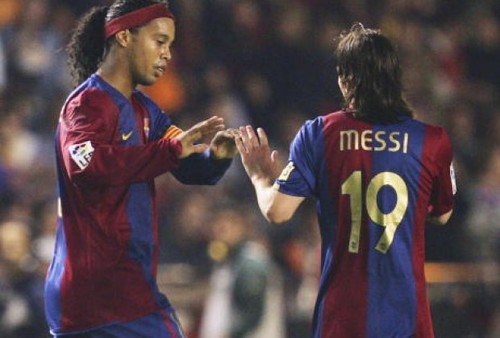 A Brazilian phenomenon that grew up in the Grêmio team, but was born as we all know it in Paris, precisely in the PSG team, a club in which he played two seasons making himself known all over the world with his spectacular skills. Barcelona was the first to notice him and does not intend to let him run away, it remains in Spain for five seasons and manages to win every available competition. Together with a young Lionel Messi and a phenomenal Samuel Eto'o, they formed a formidable attack. In 2005 he managed to win his unique Champions League against Arsenal leaded by Arsene Wenger on the bench and in the field by Thierry Henry, who will join him shortly thereafter also wearing the blaugrana jersey. In that year he also won his first and unique Balon d'Or. Very significant numbers: 145 appearances and 75 goals are not bad at all for an inside forward or striker of the outside-left, position that was more congenial to his qualities, the average of one goal every two games can claim very few players in the world football scene. Could hold real masters about explaining how to kick the penalty kicks, simply a master of that, enchanting parables that often managed to trick defenders and goalkeepers.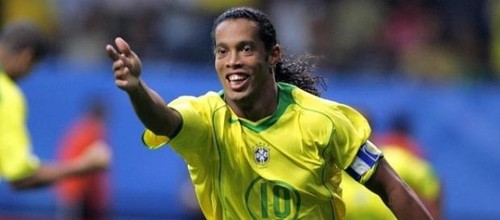 Once his fantastic adventure in Barcelona was over, the president of the A.C. Milan, who was then Pier Silvio Berlusconi, he love the football show and the spectacular players along with his right-hand man Adriano Galliani, the two manage to bring him to Milan adding yet another sticker of champions to their album. The experience is certainly positive but not exciting, he scores less than in his previous club and Milan no longer has the brilliancy of some time before that had led them to win 7 Champions League. Once his European adventure ended, he returned to his homeland, Brazil, playing in Flamengo, Atletico Mineiro, Queretaro and finally Fluminense, a club in which he ended his career as a player in 2015, after the termination of the contract due to the fact that in 7 matches had failed neither to score nor to make any assists, so he took that sad decision, remains without any club and subsequently he was just playing during exhibition matches.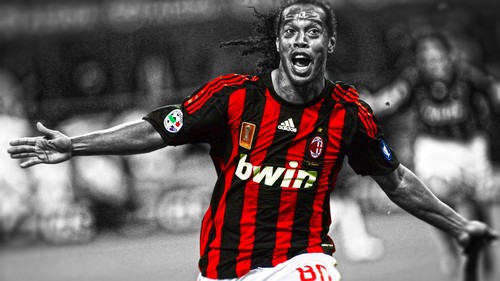 Dinho, as he was nicknamed by everybody was a special player, his celebrations after scoring were unique; a sign similar to that of the telephone receiver with a hand that flies to the right and left, a sign that has even earned a meme (🤙), is the symbol of shaka, a friendly gesture often associated with Hawaii and surfers culture. High level player, everyone like him, even the opponents so much it was a nice person. For many years he was the number one testimonial of free style in the football world, the ball seemed to be one of his arts. As a child his friends after a while, tired of playing in the field, remaining alone had to arrange himself and then remained to play a little bit more with his dog, there says he learned so many of his tricks because, in fact, to be able to dribble a dog with the reflexes that he have, must be really difficult and need a lot of talent.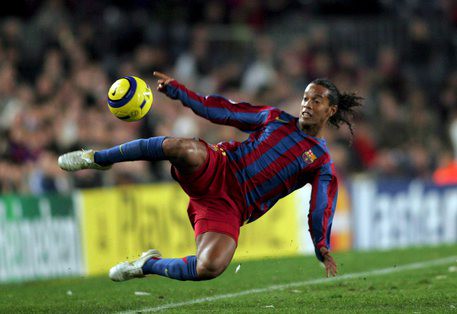 His full name sound is Ronaldo de Assis Moreira, as a child everyone called him Gaucho (adjective that identifies the who live next to Rio Grande do Sul, Porto Alegre), later he was nicknamed Ronaldinho because of Ronaldo there was already one in the national team, and already quite famous, certainly could not be called with the same name. He was called by José Altafini "the messiah" because he was the player everyone in Brazil was waiting for, an innovator who reinvented a game that seemed to have nothing left to discover. Spectacular games, senseless dribbling, he managed to give the ball an unmatched strength even when standstill. Here are some of his most spectacular goals in the following video.
A boy so simple that as a child he played as he was in the Olympus of the players, to confirm that, this spot where there are shots of when he was a child and still played futsal.

In the following video a spot that has caused a lot of discussions for some really unbelievable shots to be true, center the cross in that way and be able to catch the ball without ever making it fall to the ground with the addition of ball control worthy of a circus clown I do not think it's possible for anyone in the world, however it is still very spectacular and fun.

Like everybody Dinho has his own fears, one of these is to drive, just like me, even if mine is not really afraid but I am completely support him, so when he had to move he took the taxi or was driven by cousin Thiago. When he went to Milan he found 40,000 fans waiting for him at the San Siro stadium. The number 10 jersey was already taken by Clarence Seedorf, so he chose number 80, which is his year of birth. Unfortunately there will be no more occasions for any fan in the world to wait for him in some other team, fortunately, however, one day we can tell the young boys of today that when this football genius was born, we were there!