Real Madrid is at this moment not at issue for Eden Hazard. The number 10 found his joy in playing again at Chelsea. The Football Leaks and his brother Kylian Hazard are two topics I want to share with you all
"Sarri always thinks of the ball"
After an excellent World Championship in Russia, Eden Hazard was on the way to Real Madrid. That transfer did not go through. The Red Devil stayed with Chelsea, where he had a great time again under the new coach Maurizio Sarri.
"The coach has the same football philosophy as I. He always thinks of the ball", says Hazard in an interview. "How we as players think about football, that is also his way of thinking."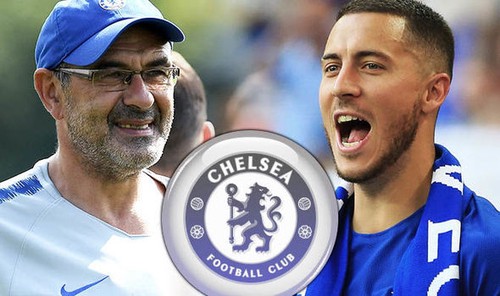 "If you see how Napoli played, it's thanks to Sarri, his style is now reflected in Chelsea, he also has players who fit into the system (like Kovacic and Jorginho, ed.) So yes, we're very happy , we play soccer well. "
A transfer to Real is currently not at issue for Hazard. Or do you? "I only think about Chelsea now," Hazard answers with a smile. "The competition lasts 7 to 8 months, after which I see what happens."
"Read Football Leaks too"
In last few weeks you have read a lot of stories from Football Leaks. Eden Hazard also follows the revelations closely. "I try to read the messages, and there's something new every day," he says.
"I like to be informed and if I can help, I want to do that too, but I mainly concentrate on my job on the ground: As a player you do not have the possibility to clean up football, there are others who do that. can do it. "
"Football Leaks is not just a problem of brokers, but of football in general", says the Red Devils captain. "Of course I am in favor of putting things in order, not only in Belgium but also internationally, we know that a lot of money is involved in football, and there are some figures around who do not like it very well."
Hazard does not work with a player agent. "I had someone when I went to Chelsea, but now I am working together again with two people who have been guiding me for 15 years.
Red Devil match
Meanwhile, Hazard's younger brother Kylian plays his first matches in the Jupiler Pro League. Is he going to watch Cercle Bruges once?
"Hopefully I have time to see him play in Belgium, it is not easy to make me free, even with my children", explains the family man. "I did not see Thorgan playing football in Waregem, only in the cup final in Brussels."
The Hazard brothers: