For Danijel Subasic (33), July 15 remains a black bookpage in his long career. The goalkeeper of AS Monaco miraculously was present in the final battle against France (4-2), after he got injured in the quarterfinals against Russia (2-2, 4-3 a.p.) Injury in the hamstrings. His grimace gave the worst suspicion, but the 44-fold international held on to adrenaline and experience. Against Paul Pogba and co, however, he could no longer hide his physical limits. After the World Cup, he also announced his retirement to the national team.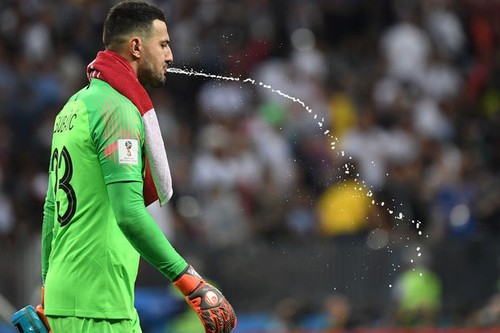 Subasic did not get fit in time to resume the group training at AS Monaco on August 6th. In spite of a specific individual power program, a knee problem immediately occurred, so that the Leonardo Jardim's titular goalie did not make the CL confrontation against Atlético Madrid either. Fortunately, the Swiss double Diego Benaglio (35) performed very convincingly.
Subasic is not the only Croatian World Cup finalist who has a hard time. Central defender Dejan Lovren (29) is out with is team Liverpool, after a pelvic injury and recently also the stomach problems. Rightback Sime Vrsaljko (26, who exchanged Atlético Madrid last weekend for Inter) continues to suffer from the knee and was not even once a titular, while Ivan Strinic (31) at AC Milan since August 18 - temporarily? - had to stop after heart problems.
And at Eintracht Frankfurt, where coach Niko Kovac was replaced by Adi Hütter, AnteRebic (24) is stuck with a crisis of confidence and an adductor injury. Last season, the right-footed flank player got six goals and three assists in 25 Bundesligaduels, the last few weeks the head and body were clearly not finished yet.