Published on 18 December 2021 - 13:08 GMT
By Dokubo.
FC Bayern Munich continued their impressive form as they cruised to a comfortable 4-0 win over VfL Wolfsburg in Bundesliga fixture played on Friday night.
Thomas Müller gave opened the scoring with an early 7th-minute strike and that proved to be the only goal of the first half of the game. Twelve minutes into the second half, defender Dayot Upamecano made it 2-0 for the Munich side. Wolfsburg's goalkeeper only had to pick the ball out of his goal for him to concede the third goal as Leroy Sané found the net in the 59th minute.
For a moment, one would have thought that this is one of those rare games where Robert Lewandowski won't get on the scoresheet. Well, that was never to be as the record-breaking goalscorer compounded Wolfsburg misery by making it 4-0 in the 87th minute.
Lewandowski Breaks Müller's Record
Club and country legend, Gerd Müller has had a long-standing record of 49years as the player with the most Bundesliga goals in a calendar year (42 goals). Lewandowski's strike against Wolfsburg was his 43rd for the year 2021, one goal better than Müller's 42 in 1972.
Lewy Equals Cristiano Ronaldo's Record
That strike against VfL Wolfsburg also meant that Robert Lewandowski equalled the second-best most goals scored in a calendar year by a footballer.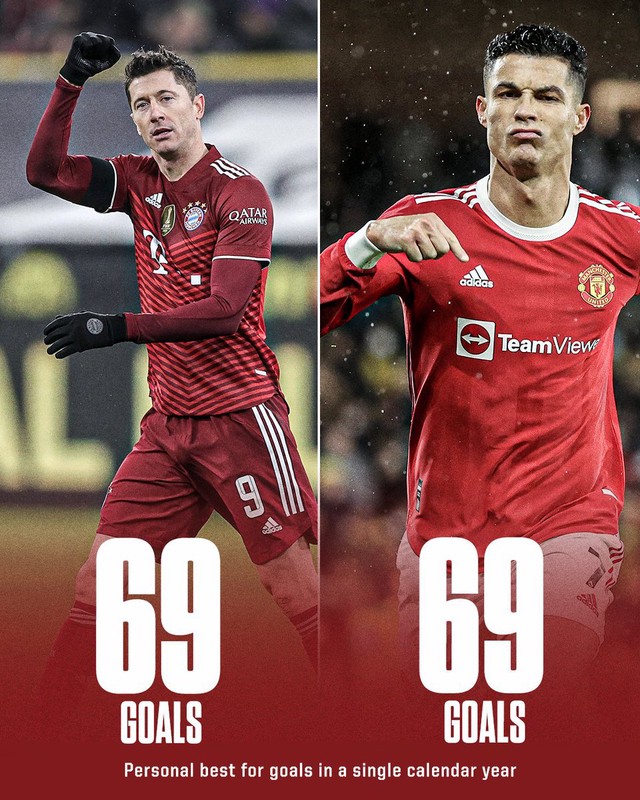 Ronaldo's career-best of 69 goals in 59 games came in 2013 at Real Madrid CF. This number of goals in a calendar year is only bettered by Leo Messi's incredible 91 goals 🤯 in 2012.
HATS OFF LEWY 🙌👏👏