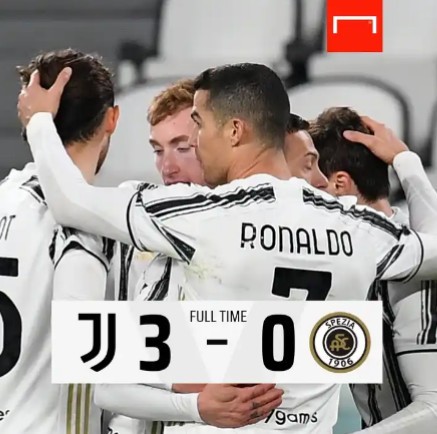 Juventus inconsistency has broken the confidence in them WINNING the Scudetto this season as they trail huge number of points, after their victory last night, they are 7 points behind league leaders; Inter Milan in which if they win their next fixture they'll stay 10points adrift the Old Ladies.
I saw no reason why they should play out a draw with Bottom side; Crotone in their last game and losing such points is basically telling on their chances of laying hands on the Scudetto this season as the chances get slimmer by the day. They have drawn 7 games which implies that they have drawn more games than any top 7 teams that is not a good mentality for a title contender. Most of the draws and losses are against smelling sides in the league as they successfully do show their strength against big sides aside from Inter that succeeded in beating them.
Anyways they are back to winning ways with a 3-0 win against Spezia, all goals scored in the second half of the game as they had to wait for the arrival of Morata who was benched to open scoring, kudos to Chiesa and Ronaldo who completed the scoring on the night.
Pirlo really has more psychological role to play to keep the team awake in their title defense race to preempt dropping unnecessary points moving forward if they truly want to win the league again.