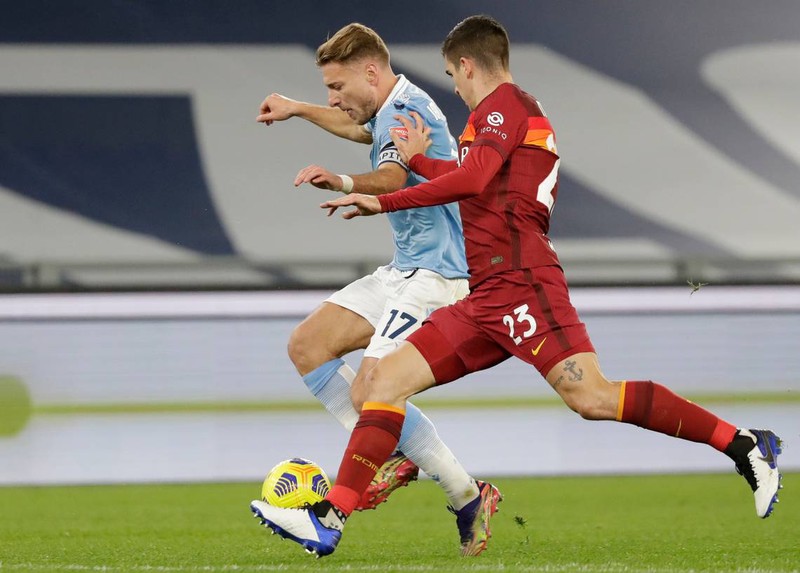 Lazio wins the derby with Roma for 3:0
Roma lose again against a great team of the Italian league, while Lazio is returning to the Champions area.
A mistake by Ibanez gives the advantage to Immobile, then two goals from a great Luis Alberto close the game.
Lazio obtains the third consecutive victory in the derby with Roma, in the capital derby number 153 in Serie A. With this result Lazio is close to only 3 points to Rome.
For Lazio, a success that brings the Giallorossi closer in the standings, now just 3 points away, the game immediately went well for the Biancocelesti, scoring twice in the first 23 minutes thanks to the Immobile-Luis Alberto couple.
Roma never seem to be able to reopen the game and so Luis Alberto thinks about it again to score the third goal, which puts an end to any hope of Garcia's team.
The success revives the Biancocelesti's ambitions in the league, especially in light of the great performance in the derby.
THE MATCH:

The formations that had played in the previous match against Parma and Inter respectively are confirmed for both Lazio and Roma.
Lazio with the two forwards Caicedo and Immobile. Smalling recovered in Rome.
The biancocelesti immediately try to score from the right with Lazzari. In the 7th minute, Immobile's first shot on goal was saved by goalkeeper Lopez. Then it is the turn of Roma who try to take the lead with Mancini, but the Lazio goalkeeper is good at deflecting for a corner. On the developments of the corner, Dzeko puts Reina in difficulty who neutralizes Dzeko's shot.
Lazio took the lead immediately afterwards, with Ibanez slipping in the middle of the penalty area, Lazzari took advantage of it to serve Immobile, who anticipated Smalling and scored his twelfth goal in the league.
At 23 ', Lazzari is still the protagonist who gets rid of Ibanez again and serves Luis Alberto the opportunity for Lazio's second goal. Roma after the double disadvantage tries to react, but struggles to find spaces in the Lazio penalty area
At 36 'Mkhitaryan tries, but his attempt goes off target. Rome always on the attack, Lazio attentive in defense and ready to exploit every opportunity in attack.
At the beginning of the second half Pedro enters in place of Veretout, with Pellegrini moves back to midfield. Lazzari is still the protagonist who serves an excellent opportunity for Ciro Immobile, who however fails.
At 20 'double change in Lazio: Leiva and Caicedo leave, space for Akpa Alpro and Escalante to strengthen the midfield.
Two minutes later Lazio scored the third goal, again thanks to Luis Alberto who closed the game with a great shot from outside. The Spanish playmaker is celebrating for his double.
Lazio in evidence until the last moment of six minutes of recovery.